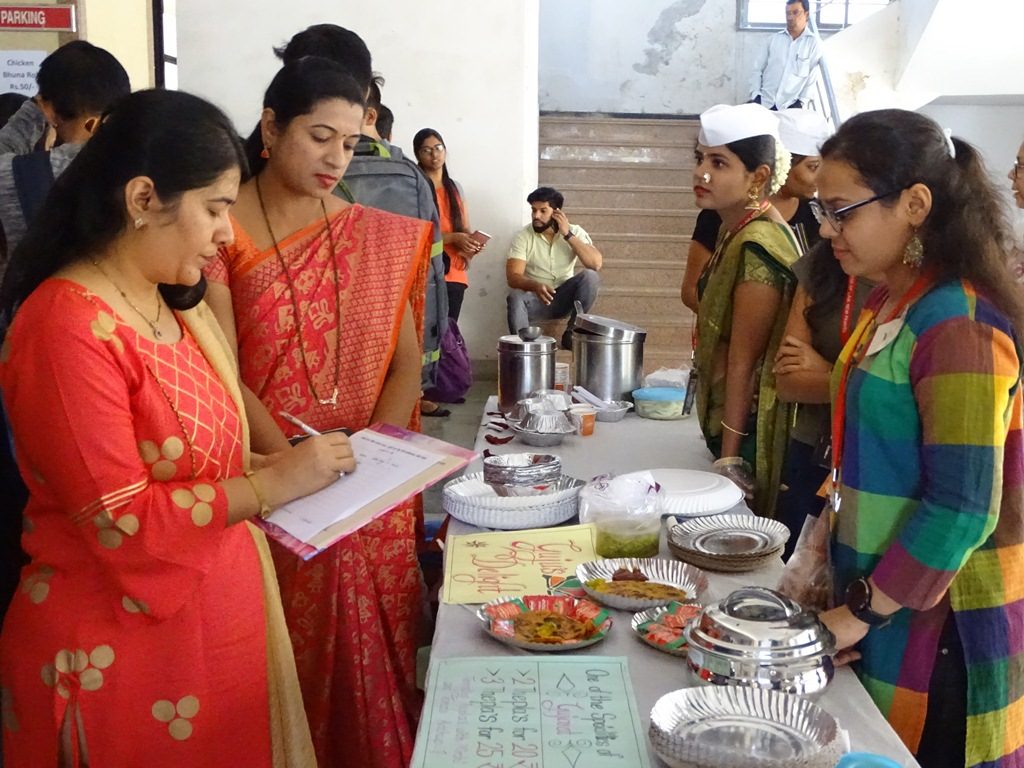 Khanda Colony / Panvel / PCMC: The Janardan Bhagat Shikshan Prasarak Sanstha organized "Food Fest 2019" at Bhagubai Changu Thakur College of Law in Khanda Colony, Panvel. The event was inaugurated by the chief guest of the event, Shakuntala Ramsheth Thakur, Director, Thakur Infra-project Pvt. Ltd. and Varsha Prashant Thakur, Member, Janardan Bhagat Shikshan Prasarak Sanstha, Panvel, Archana Paresh Thakur, Director, Vibe Foundation & Trustee Veer women Group, Panvel. The guests were welcomed by Shitala S. Gavand, Principal, B.C.T. College of Law.
The event saw the participation of students and winners were chosen by the Chief Guest and Guests of Honour on the basis of presentation, cleanliness and test and were handed out with certificates of merit.
All present enjoyed lip smacking vegetarian and non-vegetarian delicacies like Chicken Tortilla, Spicy Chicken Gravy & Bun, Prawns – Bhakari, Prawns-Rice, Chicken Bhuna Roll, Chicken Gravy-Bhakari, Thepala-Mirchi, Misal, Veg Crispy Pan Cake, Kachori, Juice, Pavbhaji, Dal Makhani&PalakPanir, Pohe, Veg Pulav, Chocolates, etc.
Winner (Non-Veg Food)
First Rank: Ms.CindrellaJaison – (Chicken Bhuna Roll)
Second Rank: Ms.SabaHasware – (Chicken Tortilla)
Winner (Veg Food)
First Rank: Ms.PratikshaKadam – (Dal Makhani – PalakPanir)
Second Rank: Ms.ManasiShelar – (Chocolates)
Event Snapshots
Last Updated on March 16, 2019 by lp@admin