In an obvious indication of their lack of swimming skills, many adults, and their young family members under 14, can be seen risking their lives in the pond along the Taloja Jail road.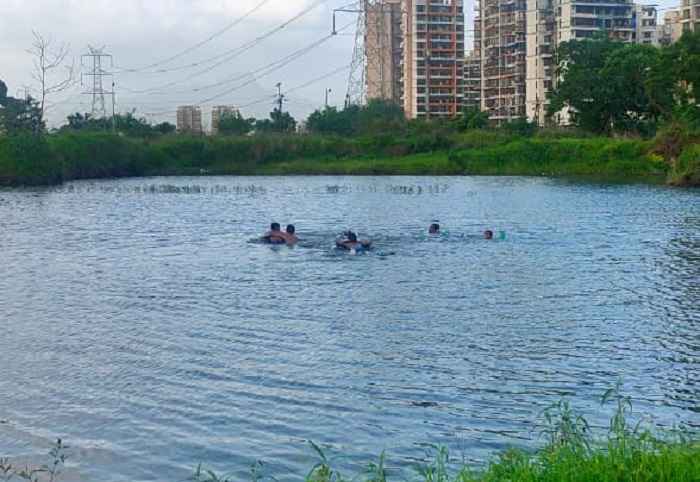 Kharghar / Navi Mumbai / Panvel: There has been a surge in the number of people visiting the Taloja Jail Pond located along the Taloja Jail Rd, Sector 35G, Kharghar, for a quick swim, especially families. Many adults have been found swimming in the pond, tugging along their children, with the help of tyres.
Most of the times, these swimmers happen to be either learners, or new swimmers testing their skills.
Shivkumar, a localite of Kharghar, shares, "Local families have been visiting the Owe Hills and Taloja Jail Pond almost every day and these places have transformed into picnic spots of sorts. However, the problem is that some people have been swimming in the pond, and by the looks of it, not all of them are expert swimmers."
Also Read: Owe Hills and Taloja Jail Pond turn into picnic spots
The major concern, as it seems, is the fact that many children as young as 14 years, have been venturing into the Taloja Jail pond, with or without supervision.
"Some children, who can hardly swim, can be seen plunging and swimming in the pond, either with family members or alone. Some of those can be seen using tyres to stay afloat, and that explains the level of risk they have been taking," adds Shivkumar.
Also Read: Children risking their lives at ponds and streams in Kharghar
Also Read: Youngsters visiting Pandavkada waterfalls despite ban and section 144 in effect
This is not an isolate incident and as a matter of fact many young children have been swimming in ponds and streams in isolated spots in Kharghar, endangering their lives every day.
The Kharghar police have been sending out patrols to all popular places, like Pandavkada Waterfalls and Driving Range Waterfalls, but monsoon revellers have been sneaking in unnoticed during odd hours, and even during the evenings.
The situation presses on the need for dedicated sentries posted at these picnic spots in Kharghar.
"The Kharghar police must be doing their best but they will have to take extra pain, and either increase the rounds or post people at major picnic spots in Kharghar. It is the irregularity of roundups that encourages people to take such risks," Shivkumar concludes.
Also Read: Don't visit Pandavkada falls: Kharghar police warns monsoon revellers
Shatrughan Mali, senior police inspector, Kharghar, has constantly been requesting local residents not to indulge in such activities, through all possible mediums. However, some people simply choose to ignore.
Last Updated on July 8, 2021 by lp@admin