Young children, aged 14 and below, have been found frolicking in accident prone ponds and streams in Kharghar, especially the Taloja Jail Pond.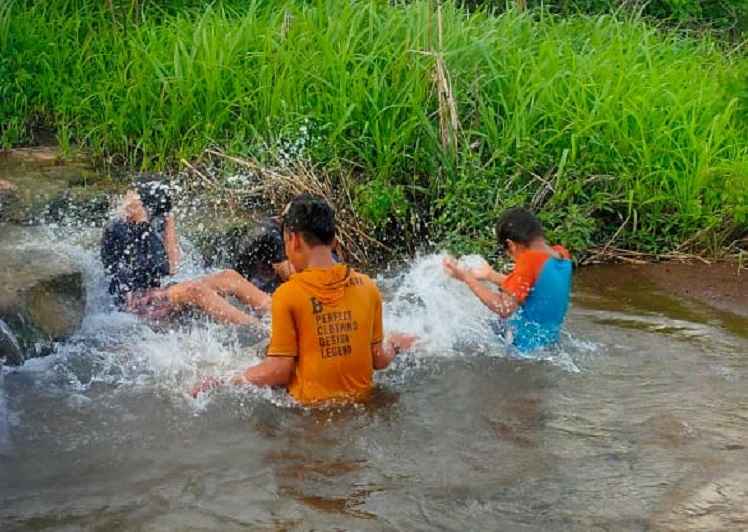 Kharghar / Navi Mumbai / Panvel: While the Kharghar police and forest range officers have been trying their best at driving people away from the Pandavkada Waterfalls, there are many spots left for monsoon revellers, especially children, from having some fun out of the rains.
As a result, many young boys and girls have been visiting ponds and streams in Kharghar, flirting with danger every day.
Take for instance, the Taloja Jail Pond, which has transformed into a picnic spot for locals and outsiders alike. The pond sees a number of young children coming in from within Kharghar and even far off places.
Also read: Owe Hills and Taloja Jail Pond turn into picnic spots
The matter of concern is that these young children ignore every possible threat to their lives and indulge in raw fun at the pond, jumping, diving and swimming as they will.
Many of these young ones hardly know swimming and hence are always under constant threat of drowning.
Just last week, a youngster lost his life at the Pandavkada Waterfalls, as he apparently jumped into the water along with one of his friends. The deceased was an adult and in a much better position to handle himself, and still the unfortunate mishap happened.
Also read: Youngsters visiting Pandavkada waterfalls despite ban and section 144 in effect
In comparison, these young ones have little or no swimming experience and any event when one of them slips in the water could lead to a worst case scenario.
Residents of neighbouring buildings inform that many children can be seen playing dangerously in the water, unattended and without any adult supervision.
It is owing to the remoteness and also lack of monitoring that children indulge in such dangerous fun activities at several small waterfalls and ponds in Kharghar.
In a similar fashion, hundreds of families and youngsters had gathered at the Driving Range at Kharghar on Sunday, and could be seen indulging in fun activities in the small waterfalls and streams.
As a result, the Kharghar police had to send out patrols to Kharghar Driving Range and Pandavkada Falls to disperse the huge crowd that had gathered on account of the holiday.
Shatrughan Mali, senior police inspector, Kharghar, has been constantly sending out general circulars and patrols to discourage people from visiting waterfalls and ponds for their own safety.
However, there has been a huge ignorance on the part of the many locals and outsiders who simply don't want to comply, and consider fun above everything else.
Last Updated on July 11, 2023 by lp@admin