With a better script and direction Mrs. Serial Killer could've been a standalone winning addition to Netflix's Indian collection but sadly, it had nothing to 'drive' viewers in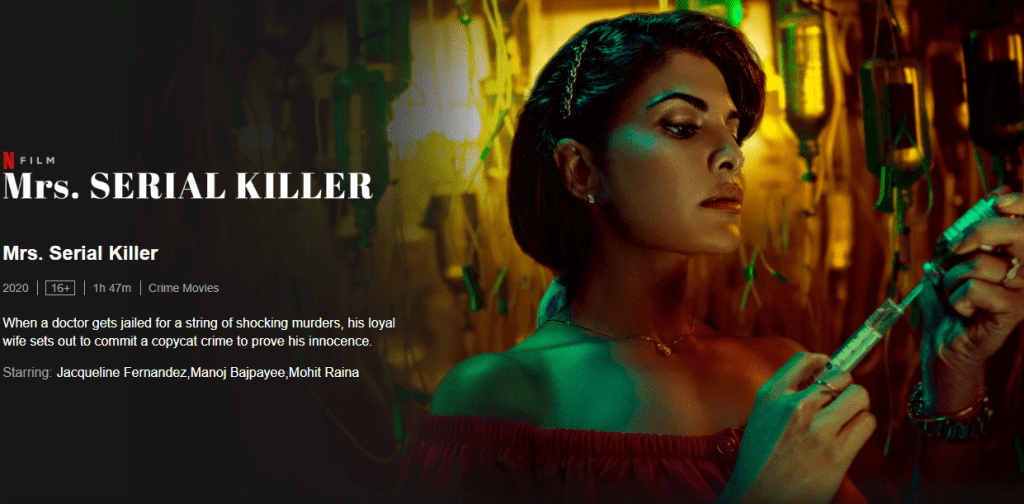 Movie Name: Mrs Serial Killer
Writer, Director, Producer: Directed by Shirish Kunder / Produced by Farah Khan
Cast: Jacqueline Fernandez, Manoj Bajpayee, Mohit Raina and Zayn Marie
Date of Release/Streaming: 1st May, 2020
Streaming Platform; Netflix
Short Plot Summary of Mrs. Serial Killer
Mrs. Serial Killer is a 2020 Indian crime thriller film, written and directed by Shirish Kunder, and produced by his wife Farah Khan, as a Netflix original. The film stars Jacqueline Fernandez, Manoj Bajpayee, Mohit Raina and Zayn Marie (Aamir Khan's niece), making her Bollywood acting debut.
The plot of Mrs. Serial Killer revolves around Sona (Jacqueline Fernandes) and her husband, Dr Mrityunjoy Mukherjee (Manoj Bajpayee), a gynecologist, and their otherwise happy life that runs amuck when Mrityunjoy gets arrested by Imran Shahid (Mohit Raina), Sona's ex-boyfriend and a cop, for the murder of six unmarried pregnant women he supposedly kills while also removing their fetuses to be stored in jars. Sona, confident of her husband's innocence, embarks on a journey to prove his innocence. In doing so, she tries replicating the murders on the suggestion of a sly lawyer, and also a friend of her husband, Dr. Rastogi (Darshan Jariwala), to prove that the serial killer is still out there. So, she abducts Anushka Tiwari (Zayn Marie) and what follows next is a series of funny mishaps that lead to the somewhat surprising climax of the movie.
So how does it pan out for Mrs. Serial Killer? (Spoilers – Avoid if you plan to watch the movie)
Well, to give you a quick run through the story, Sona succeeds in abducting a pregnant girl and then also producing a dead body of a pregnant girl to look like the girl she abducts and in doing so, freeing her husband. However, when all looks like going in Sona's favour, it turns out that her husband is actually the serial killer! So now it is Soha, her ex-boyfriend, the abducted girl and her almost ex-boyfriend against the real serial killer! And who wins? Well, of course the good guys!
Mrs. Serial Killer: How the plot could have been better?
It would have better if Sona's boyfriend would have been the one to frame her husband on purpose and then Sona would have tried desperately to save her husband as she had known for sure that her husband was innocent because to the surprise of all – Sona would have been the actual killer, who now just had to kill one more time and also frame someone else for the crime – her boyfriend, who had framed her husband for the crime!
That would still have been a better watch but you never know – no matter what the plot, we still needed a litlleeeeeeeeeeeeeeeeeeeee help in the direction!
What's different in Mrs. Serial Killer?
Well, this is the first time that Jacqueline Fernandes has not danced in a movie like a typical Bollywood actress (That is what they are here for, right? That is why they don't get to act more. Come on guys, give them a break, and let them act more). So, in a way, Jacqueline has taken that leap of faith and though it hasn't turned out well, for many reasons, there is always scope for improvisation – keep going Jacqueline!
Best acting in Mrs. Serial Killer:
Okay, now this is a little tricky because we don't really know if the acting was bad or the actors were told to act that way. So, we are a little confused here, but let's begin by saying that Manoj Bajpayee did all he could. Moving on, Mohit Rahina, aaaa…. He was the poor forlorn lover, bewildered cop, one with next to none important dialogues and… aaaa… ya he did his part. Zayn Marie – well she had to make her debut someday so why not in a movie that people will laugh about for some time? Well, she did her acrobatic, pregnant part…. Errr… we mean.. she played her part well!
Now, Jacqueline…. She looked good, she looked good and she looked good! Ya… done!
Best Dialogue/s in Mrs. Serial Killer:
In one of the scenes (the most important scenes, mind it) the 'killer', Sona (Jacqueline), says, "Torture tuney abhi dekha hi kahan hai," warning off viewers… er… I mean, one of the characters in the movie! There is another when Sona's husband yells something like, "Tum mujhe Joy Joy kyun bulati rehti ho, main koi ice-cream flavor hoon kya?"
Best Scene/s in Mrs. Serial Killer:
Now, there were many (to laugh about) but one of our favourites was when the character, Anushka, played by Zayn Marie frees herself in the absence of her abductor Sona and on her return, is shown playing Spiderman, comfortably hanging high above between two walls, in a corner of a room. And then, she jumps on Jacqueline saying, "Surprise M…..F….r," trying to be funny or something! It reminded us of the scene from 'The Conjuring' where the spirit jumps on the girl scaring everyone, the girl, her sister and the viewers. Now we know how the scene would have been if these guys would have directed it.
Any adult scenes (like it matters, everyone watches them anyway):
There were none (they could've used some, to increase the chances of more people watching it for the sex scenes at least)
Expletives, bad language (foul mouthed actors), graphic content
Aaaa, nothing more than when Bajpai yells 'whore' and Zayne yells 'Surprise M………er…'. That was all it had I guess if we don't consider showing or talking about fetuses and dead girls graphic and obscene. Nothing much though! Kids watch more graphic content nowadays – gaming, remember!
Should you watch Mrs. Serial Killer?
Well, no matter how disastrous the movie, it is still not worthless. Now, you may totally ignore it based on reviews about how bad (like the one we just wrote too) it is but then, remember one thing – we have a list of movies from A grade stars who have been exposing us to movies that make Mrs. Serial Killer bearable – Housefull 1, 2, 3…. aaaa… we lost the count trying to keep ourselves insane… and what was that other movie with all those stars where one goes 'eeaaa..eaaaa..oooo' when he wants to say something? Oh, yessss… Golmal 1, 2, 3… how many do they even have?
Anyway, so you got the point, right? If you managed to watch those, you can still manage to watch this one. If nothing, then watch it for a change maybe! Now don't tell us that you would not like to waste your time, energy and mental peace on such a movie because we know one thing for sure – You will end up watching a lot of garbage anyway or waste your time on TikTok! Instead watch this one!
Where to watch Mrs. Serial Killer
You can watch Mrs. Serial Killer, which is streaming on Netflix now.
Mrs. Serial Killer: Thing to look out for
Well, the ending scene of the movie shows the serial killer or the villain, Manoj Vajpaye, escaping along with his now obvious accomplices, the lawyer and his wife, hinting at a possible sequel to the movie. So, brace yourselves!
Stop Piracy, Watch Movies in Theatres and on Genuine Streaming Platforms – Unless, the movie looks like a waste of your money and time! 🙂
Last Updated on June 15, 2020 by lp@admin