While pet parents have lauded the civic body's initiative, they say that many such pet corners will be needed to make Navi Mumbai an Open Pet Defecation-free city.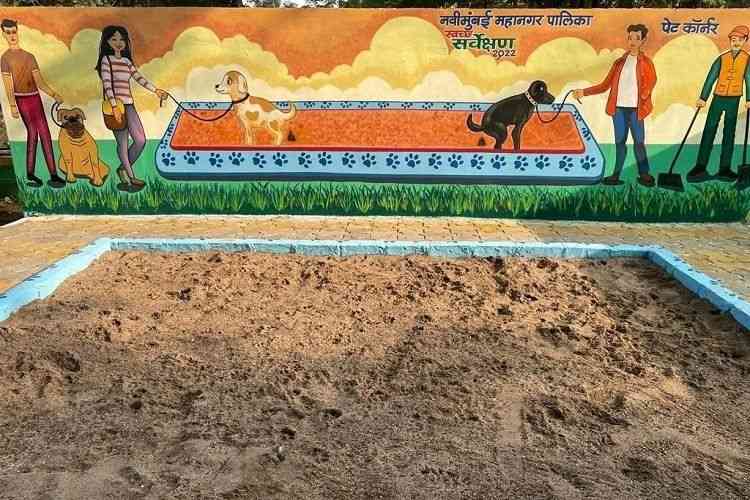 Vashi / Navi Mumbai: Vashi pet parents, especially those living in sector 28 and 29, are very appreciative of the innovative 'Pet Corner' concept of the Navi Mumbai Municipal Corporation (NMMC). It is a one of kind offering, and could hold the key to the dog poop problem in the city.
Trupti Jambhulkar, a pet parent, shared, "The NMMC is trying everything innovative to make our city stand out from the rest and the pet corner in sector 29 is an example of their willingness to think out of the box. The provision of a legal poop station for pet dogs in the area should encourage pet parents to use the facility and avoid road sides, corners and vacant spots."
Other pet parents were happy about the convenience that the pet corners will provide to many.
Ravi Poojari, another pet parent, shared, "I find it very labourious sometimes when I take my pet dog out to poop as picking up from the road and then packing it up in a bag that I have to carry along and then disposing it in the nearest bin, is all too daunting at times, especially when I am back just from office. The pet corner will help people like me a lot as it has everything, a pit to poop, bags and bins. So it will be very convenient."
Rupali Shah, a resident of sector 14, Vashi, shared, "The concept is amazing but will only work efficiently if we have at least one pet corner in each sectors of all nodes in Navi Mumbai. The distance it takes for you to take your pet to the pet corner will be a decisive factor. It will be impossible for someone living in, say, sector 14, to walk all the way to the pet corner in sector 29. We will need many more of such pooping stations to fulfil the objective."
Many pet parents have also been eagerly waiting for the Vashi Dog Park at Veer Savarkar Udyan in sector 9, to be officially inaugurated.
Also read: Vashi Dog Park likely to open in January 2022, after completion of pending work
Suresh P, a resident of sector 9, Vashi, shared, "The NMMC has also been developing the first ever dog park in the city, so it goes without saying that our corporation deserves appreciation for their innovative endeavours. We are expecting the dog park to open by January 2022."
Whatever the perspective, all pet parents have been happy about the efforts that the NMMC is making to help pet parents in the city.
Last Updated on December 14, 2021 by lp@admin