Filled with sand (pits) and equipped with pooper-scoopers, garbage bags and bins, these pet corners will act as legal pooping corners for pet dogs and also help NMMC advocate their cleanliness initiatives for Swachh Survekshan 2022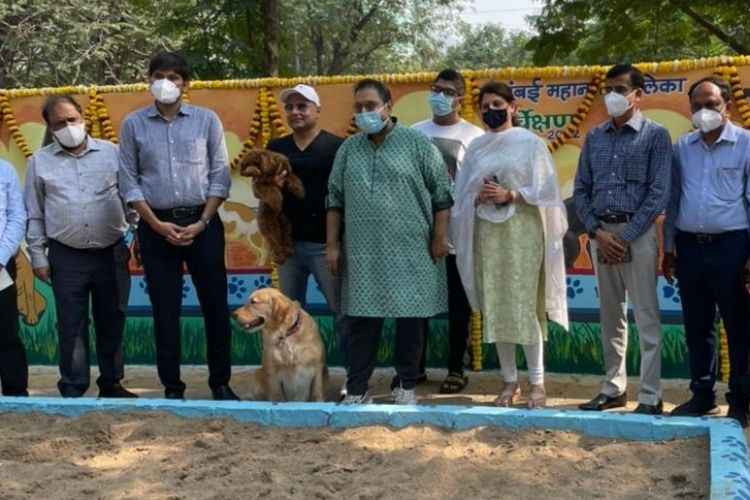 Vashi / Navi Mumbai: City pet parents witnessed the opening of the first-ever "Pet Corner" at sector 29 in Vashi on Friday, 10th December 2021. The concept was visualised and successfully executed by the Navi Mumbai Municipal Corporation (NMMC), as an integral part of their initiative to promote cleanliness in the city to be able to rank higher on the Swachh Survekshan platform.
Renowned singer Shankar Mahadevan, who happens to be a resident of Vashi, inaugurated the 'Vashi Pet Corner' in the presence of many civic officials including NMMC commissioner, Abhijit Bangar, additional municipal commissioner, Sujata Dole and others.
Just to make readers aware, Mahadevan also happens to be the brand ambassador of 'Swachh Navi Mumbai' initiative and has been keenly promoting various initiatives of the NMMC throughout the city.
Talking about NMMC's innovative concept, Mahadevan said, "Navi Mumbai is already an open defecation-free (ODF) city, and the NMMC now aims at making it pet open defecation-free as well."
Mahadevan is also a pet parent himself and had brought both of his dogs (golden retrievers) who could be seen trotting around happily.
"This could be the start of a city free of pet waste in the time that follows," Mahadevan remarked.
The Vashi pet corner has a sand pit to allow pets to poop, pooper-scoopers to pick up the poop, garbage bags to collect the poop and bins to discard the poop bags.
What caught our eyes were some interesting paintings on the walls depicting pets and pet lovers.
The NMMC may have become the only corporation in the state or even the country (still checking facts) to have taken up such an innovative initiative of pet corners.
NMMC commissioner, Abhijit Bangar, shared, "There is a mixed crowd of pet pwners in the city; one picking up after their pets and the other simply ignoring their responsibility for any number of reasons, ruining footpaths, roads, public spaces. So, apart from penalising them, we have come up with an alternative to allow them to act responsibly. Now they will have a legal place to take their pets to poop."
Apparently, the NMMC is planning to start such pet corners in 10 different locations across Navi Mumbai, with Vashi being the first one to have materialised. The numbers would increase further depending on the reception and viability of the concept.
Whatever the case, it is a one of a kind offering for pet parents in Vashi, and if other such pet corners do come about in the months that follow, then Navi Mumbai will be able to cut down on the dog poop situation on the streets to some extent.
Apart from being recognised as an Open Defecation-Free (ODF) city, Navi Mumbai has also received a "Water Plus" rating.
The NMMC is moving ahead positively and aggressively to improve its ranking further during the Swachh Survekshan 2022 survey.
Reader must be aware that another unique venture of the NMMC – the Vashi Dog Park situated inside the Veer Savarkar Udyan, in sector 8, Vashi, is nearing completion, and is about to be thrown open in the new year, possibly in January 2022.
Also read: Vashi Dog Park likely to open in January 2022, after completion of pending work
LocalPressIn View:
Well, with "Pet Corners" and a "Dog Park" coming up soon, Navi Mumbai is surely going to turn a new leaf in being a pet friendly city. However, what would really make the city stand out, would be an NMMC-run crash course for city residents in "loving animals", to ease the tension between animal lovers and the opposition.
Last Updated on December 14, 2021 by lp@admin