The giant lungs billboard installation at Kharghar has shockingly turned black in just a matter of 10 days and is getting darker by the day.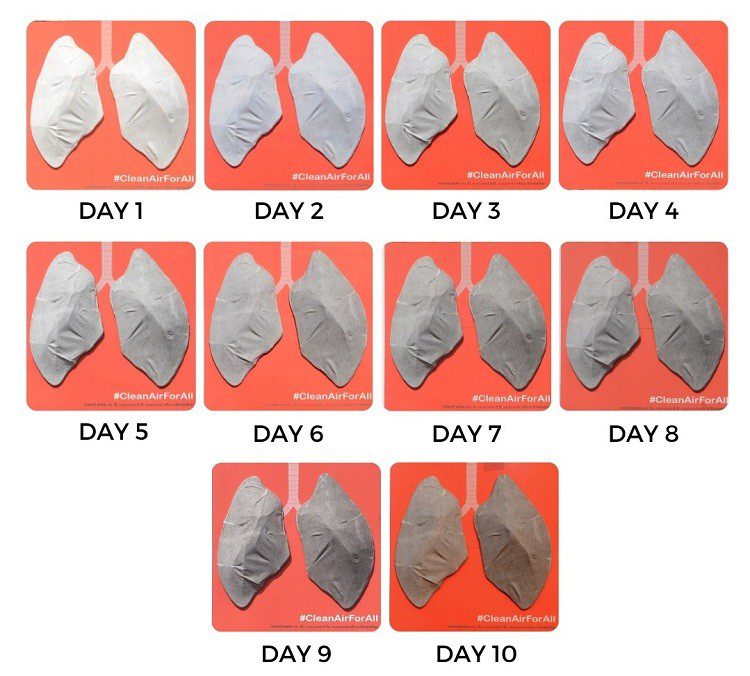 Kharghar / Panvel / Navi Mumbai: The "Billboard That Breathes" or replica of giant lungs, installed at sector 7, Kharghar, by the environmental organisation Waatavaran, has further deteriorated in colour, ever since it was installed, on 15 January 2020. Kharghar residents are now alarmed by the mere looks of the lungs billboard, covered by a thick black layer of particulate matter.
Bhagwan Kesbhat, Founder of Waatavaran, expresses his concern, "As I reside in Kharghar, I speak from daily experience. The way the lung replicas on the billboard have changed colour from white to black, makes the pollution crisis more than obvious to everyone. This is a dire situation and we cannot afford to bury it under mere discussions, promises, paper work or even numbers, for that matter."
"Take a close look at the billboard – These are your lungs, just 10 days in Kharghar. We need to do better that just post online or discuss during social gatherings. We need to involve actively and immediately," he adds.
The pollution has increased ever since the lockdown was lifted and industries sprang into action along with construction activities and vehicular emissions. All these activities together have added up to the pollution.
The intimidating colour of the giant lungs has been having a scary effect on many Kharghar residents.
Aashish Sharma, a college student, shares, "I had seen the billboard on the day of inauguration and almost every other day. it has changed colour like a reptile – quick! Now I feel scared moving around without a mask more than ever before. I just hope that all of this doesn't end up just in newspaper articles like always. At least this billboard is constantly hammering the reality of the pollution crisis in Kharghar and Taloja area into our heads."
People in Kharghar have already been aware of the pollution crisis in the Kharghar-Taloja-Panvel belt but now at least they have a sour visual reminder. They have gone past the belief that they live in a clean and green area.
Avez Mirde, a college student and nature lover, expresses his anger, "The air in Kharghar and Taloja is not pure at all and the mountains and open spaces cannot compensate for the poison that we have been breathing into since a long time. The pollution is real and it is high in our locality. This is so graphic in a way, and if this doesn't motivate people to jump into action then nothing will. I expect action rather than words of promises made by local authorities and politicians. Let the billboard remind us all that we are not living in a clean and green Kharghar as people think. At least not in a surrounding having clean air."
In comparison to other cities where similar billboards were installed in the past, like Bangalore, where it had taken 14 days to change colour, the giant lungs installed at Kharghar had started changing colour from a day after installation, and have gone black in just a matter of 10 days.
Keshbhat shares, "The level of particulate matter in Kharghar seems to be higher than in Bangalore, which has been struggling with high pollution since a long time. We are only better in comparison with Delhi, where the billboard took just about 6 days to turn fully black. But that is not something to be happy about as we are just 4 days behind Delhi in a way and given the way pollution levels have been rising in the Kharghar-Taloja-Panvel belt, we could be surpassing them in no time."
Kharghar residents are now even more concerned about the way their health is being affected on a day to day basis. They hope that the local administration as well as the Maharashtra Pollution Control Board (MPCB).
Recently, the PCMC Mayor Dr. Kavita Choutmol, MLA Prashant Thakur had been to the billboard installation and addressed the local residents, acknowledging the pollution crisis in the Kharghar-Taloja-Panvel area, and made assurances about immediate and future interventions by all stake holders, especially PCMC, the MPCB, indutries located at Taloja MIDC and local residents.
In the meanwhile, Waatavaran is continuously pursuing the PCMC, MPCB and state government to take immediate preventive measures to tackle the growing pollution in area between Kharghar and Panvel.
Also read: PCMC Mayor Dr Kavita Choutmol inaugurates "Billboard That Breathes" installation at Kharghar, Navi Mumbai
Also read: Walk and Cycle for short distances: PCMC Mayor Dr. Kavita Choutmol urges local residents
Also read: Kharghar's "Billboard That Breathes" turning grey and black, two weeks before expected
Also read: Monitor the Billboard That Breathes daily: Waatavaran urges Kharghar residents
Also read: MLA Prashant Thakur visits "Billboard That Breathes" installation at Kharghar, calls for ownership by all stakeholders
Last Updated on January 29, 2021 by lp@admin