Over 5000 passenger travel on the first day, expressing their gratitude towards the CM and the administration for finally putting their needs over political fanfare.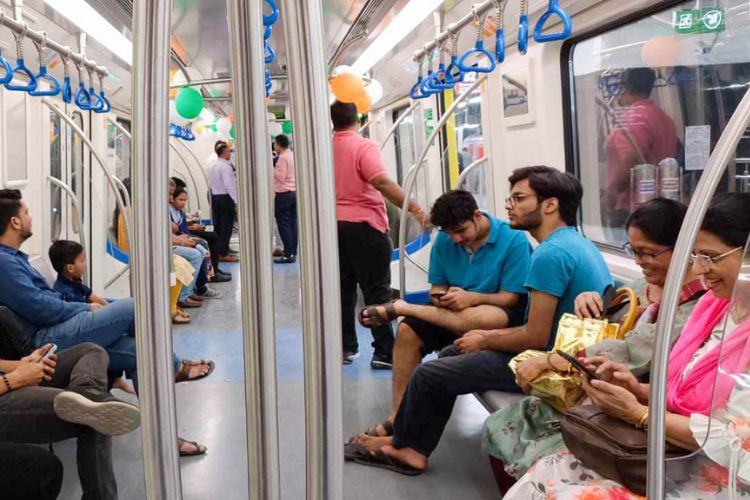 Navi Mumbai: Finally breaking the 12-year-long anticipation, the Navi Mumbai Metro Line 1, linking Belapur and Pendhar, was thrown open to the public. Stuck for months in wait for a grand inauguration with political leaders and formalities, the even turned into an unexpectedly quiet affair. Giving in to the need and constant reminding by the residents, the Chief Minister of Maharashtra nudged the City and Industrial Development Corporation (CIDCO) to kick off services without VIP fanfare, putting a smile on many eager faces.
On November 17, 2023, at 3 pm, the Navi Mumbai Metro embarked on its first commercial journey from Belapur, running till 10 pm that day. Even with the political fanfare the event was nothing short of jubilation and cheer, as people of all ages flocked to experience their maiden metro ride.
The stations buzzed with excitement as the welcoming staff at ticket counters, the check post and the platforms went above and beyond, greeting passengers with smiles, roses, and a contagious enthusiasm that set the tone for the day.
The atmosphere at the stations seemed like a carnival – children running around, elders savoring a new experience, and groups of youngsters turning the journey into a festivity with lively conversations and impromptu selfies.
Local news reporters added to the lively atmosphere, conducting interviews, capturing candid moments, and documenting the joyous occasion. As the sun set, a surprising number of office-goers, exiting Belapur and Kharghar railway stations, discovered a new travel option and opted for the metro to reach CBD, Kharghar, and Taloja, adding an unexpected but delightful twist to their usual routine.
The first day saw a remarkable response, with over 5000 tickets sold. Clearly, the Navi Mumbai Metro had not just become a mode of transportation but a symbol of communal celebration, a testament to the resilience and anticipation of the locals finally rewarded.
Residents expressed their heartfelt thankfulness towards the Chief Minister and CIDCO authorities for prioritizing their needs over political fanfare and throwing the metro open. In a world often overshadowed by political grandstanding, the silent inauguration spoke volumes about putting the people first. The metro, in its maiden journey, not only connected stations but hearts, fostering a sense of unity and gratitude among the residents.
Here are some quotes from happy commuters
Rohan Singh, an excited 10-year-old: "Oh, it was like riding EsselWorld's best roller coaster, but better! The metro is like a magical train zipping through the city. So much fun! Can we do it again tomorrow?"
Fatima Shaikh, a elderly resident of Taloja: "I never thought I'd see the day when I'd ride a metro in Navi Mumbai. It was more comfortable than I expected. Smooth sailing! This city just keeps surprising me."
Vaibhav Shinde, an office Goer: "The metro is a game-changer for my daily grind. Saves me time, and the comfy ride from Taloja to Kharghar station is like a mini-vacation. Who knew commuting could be this easy?"
Aniket Shah, a college student: "I used to burn a hole in my pocket on auto-rickshaws every day. The metro not only saved me money but also made my daily college commute a breeze. It's like my stress-free zone now."
Last Updated on November 20, 2023 by lp@admin