Her performace of the evocative 'Krishna Kautukam' and enchanting depictions of Goddess Lakshmi and Lord Shiva, left the audience spellbound.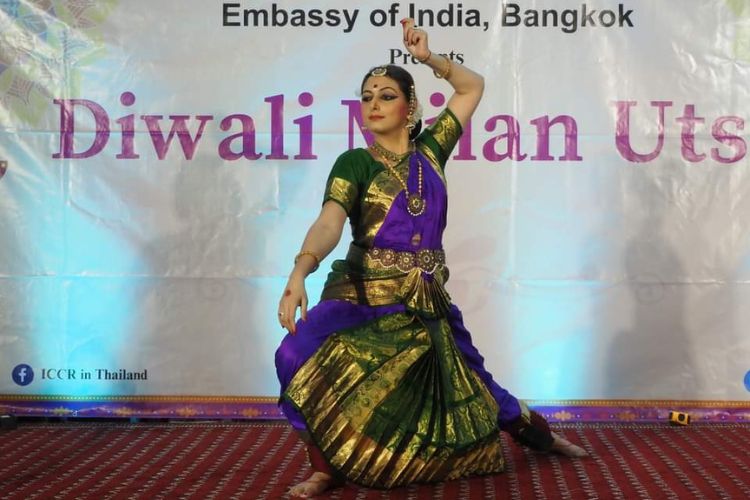 In a cross-cultural extravaganza that transcended borders, Apeksha Niranjan, an eminent figure in the realm of Bharatnatyam, graced Bangkok with an enchanting performance during the 'Diwali Milan Celebration'. The event, meticulously organized by the ICCR Thailand and the Embassy of India, Bangkok at Swami Vivekanand Cultural Centre Bangkok, unfolded its magic on November 15, 2023, leaving an indelible mark on the captivated audience.
Apeksha Niranjan, a distinguished Bharatnatyam artist and a disciple of the Sangeet Natak Academy Awardee Guru Dr. Sucheta Chapekar and Dr. Alka Lajmi, boasts a career spanning 18 years. She passionately imparts the art of Bharatnatyam education at Nrityanjali Performing Arts in Navi Mumbai.
As a graded artist of Doordarshan, Apeksha has showcased her artistic prowess globally, breaking barriers and fostering cultural exchange. Notably, she holds the distinction of being the first Indian performer at the DAP Festival of Dance in Italy. Adding to her accolades, she proudly serves as the Cultural Ambassador of Poland House, supporting an orphanage for Indian children in Poland.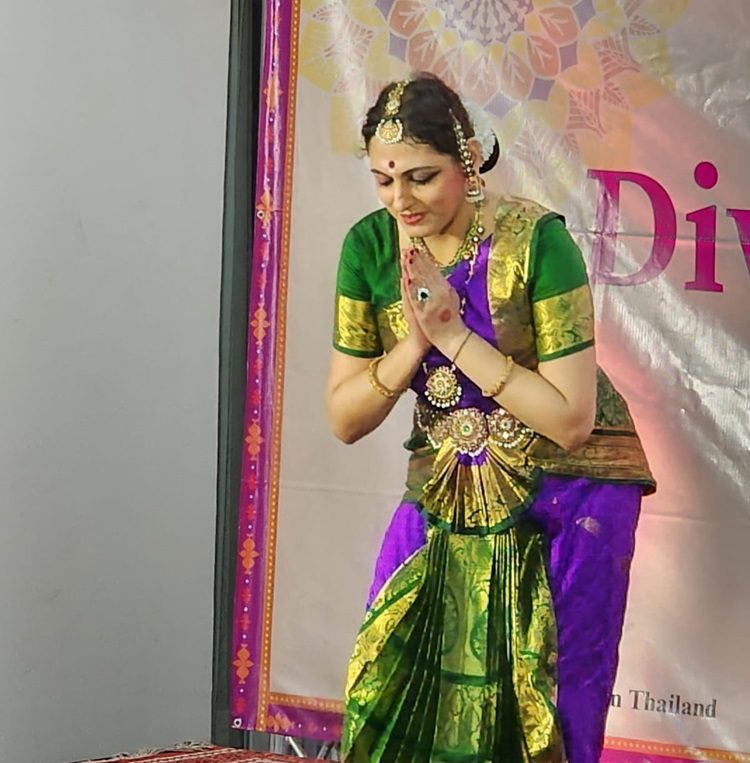 Taking center stage at the event, Apeksha Niranjan cast her spell on Thai and Indian spectators alike. The performance featured the evocative 'Krishna Kautukam' and enchanting depictions of Goddess Lakshmi and Lord Shiva, showcasing the artist's masterful command of Bharatnatyam.
The presence of Indian Ambassador Mr. Nagesh Singh, who graced the occasion as the chief guest, added an extra layer of prestige to the event. Dr. Chaitanya Prakash Yogi, Head of The Swami Vivekanand Cultural Centre, further enhanced the grandeur of the occasion with his distinguished presence.
Apeksha Niranjan's dedication to promoting Bharatnatyam on the global stage serves as a testament to the universal language of art and its power to unite diverse cultures.
"Apeksha is truly a very graceful and beautiful dancer. Her performances, especially her choreographies are of great relevance like the one depicting the infant Shri Rama, resonate deeply with the audience. Through her artistry, Apeksha fulfills the profound role of an artist – attempting to convey something beyond words, melting hearts, and breaking down barriers. A true maestro who brings symbolic significance to the cultural tapestry, leaving an indelible mark on each spectator's soul."

– Wanphen L. Sresthaputra, An equally gifted Thai-French Bharatnatyam Dancer, who was also the co-dancer for the performance. She is also the Programme Officer, Strategy and Programme Management Division (SPMD), Economic and Social Commission for Asia and the Pacific (ESCAP)
In an announcement that followed her riveting performance, Apeksha Niranjan disclosed details about an upcoming lecture demonstration on Bharatnatyam where she will explain the importance, history and intricacies of the dance. It is scheduled for November 21, 2023, and is organized by the Thailand Foundation and Bunditpattanaslip. It stands as a unique opportunity for enthusiasts to delve into the heart of this ancient dance form, rich in heritage and nuances, guided by the maestro herself.
Last Updated on November 20, 2023 by lp@admin