The Kharghar Forum, led by Leena Garad, slammed the contractors entrusted with the job of cleaning of nullahs in Kharghar.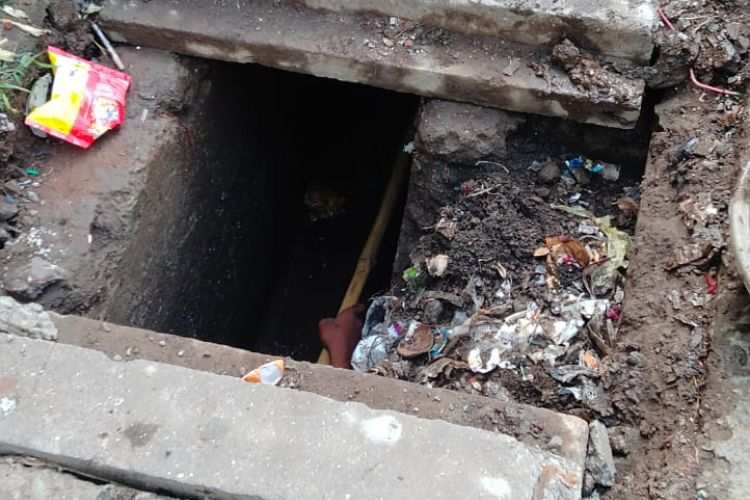 Kharghar / Raigad / Navi Mumbai: Local corporator Leena Garad recently inspected work carried out by contractors in ward nos. 4, 5 and 6 located in sectors 19, 12 and 10 respectively, as part of the monsoon cleaning routine, only to be shocked to see the shoddiness of the work done.
On Monday, 13 June 2022, Garad visited the Navrang corner road in sector 12 during the early hours of the day, and during inspection of the nullahs, which were supposedly cleaned by the contractors, found that the cleaning was done for the namesake.
Garad informed, "The Panvel City Municipal Corporation (PCMC) recently started monsoon cleaning in some sectors in Kharghar. However, the work carried out by the contractors assigned for the job is completely shoddy. The so-called cleaning is just a gimmick."
"The contractors leave the mud and waste right next to the nullahs, which flows right back during the rains. The surprising fact is that the Leader of the House (PCMC), had been on an inspection visit recently but was apparently not taken to such places with shoddy work," Garad said.
While inspecting the cleaning work carried out in sector 19, Madhu Patil, Co-ordinator of the Kharghar Forum, witnessed a similar situation.
"Cleaning work has just started in sector 19 and they have adopted the same method here as well – simply cleaning the area around the lids and the immediate visible part inside the nullahs. You can see huge amounts of waste on both sides if you just take a peek inside," Patil informed.
Considering the level of shoddiness, Garad went on to making a public plea that the PCMC should not making payments to any of the contractors towards the monsoon cleaning work, till all the nullahs were cleaned thoroughly.
"The corporation should not pay anyone unless the nullahs are totally clean because there is no need to spend money on shoddy work," Garad said.
One of the co-ordinators of the Kharghar Forum, Balsesh Bhojne, also went down into one of the nullahs to show the amount of waste lying inside.
The Kharghar Forum is pressing hard to ensure that the PCMC looks into the matter immediately and gets the monsoon cleaning work done on a priority basis.
Last Updated on June 13, 2022 by lp@admin