Since four months residents of Kharghar have been completely relying on tanker water, which is mostly smelly, sticky, muddy and unfit for drinking.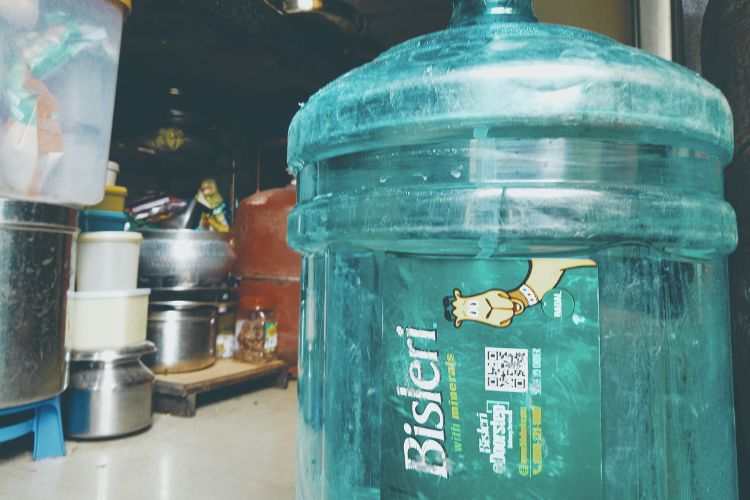 Kharghar / Panvel / Navi Mumbai: A majority of families in Kharghar and surrounding nodes like Taloja and Kamothe have been spending anywhere between Rs. 700 and Rs. 2500 every month on buying bottled potable water.
All these nodes in the Panvel City Municipal Corporation (PCMC) area have been surviving on water supplied by private tankers since March 2022. The City and Industrial Development Corporation Ltd. (CIDCO) has not been able to provide sufficient potable water to a majority of housing societies in the region, especially in Kharghar and Taloja nodes since about four months.
So while residential societies have been burdened by the huge costs of obtaining water for their residents for daily use, residents have been burdened by the expenses incurred on buying drinkable water.
The Jha family, residents of sector 35-I, shares, "The water issue in Kharghar has been dragging on since more then four months now. We hardly get water for 15 minutes in the morning and evening, and that water can only be used for washing clothes and utensils and bathing. To be frank, bathing with tanker water has been creating skin problems for many people in our society too, but that is another issue."
"We cannot drink the muddy, smelly and sticky water at all. So the only option residents are left with is to buy bottled water. We consume 7 to 8 bottles of 10-litres each, every month, costing us between Rs. 700 to Rs. 800. It is an extra burden for a middle class family like us," the Jha's add.
This is not an isolated incident and the fact is that a majority of housing societies have been spending extra on drinking water, with larger families spending even more.
Tamanna Malhotra, a teacher residing in sector 35, shares, "We have to buy two 10-litre bottles of mineral water every second day, amounting to a total of 30 bottles a month, costing us Rs. 3000. In the month of May we had bought over 40 bottles owing to the heat."
"A majority of residents in our society have been buying bottled water since months now. This is a very unnecessary expenditure for a majority of families," she adds.
The surprising part is that most of the residents buying bottled water are those with RO systems already installed at their residences.
Jatin Rajpal, another resident of sector 35, shares, "You will be surprised to learn that the RO's don't actually seem to take away the stench of the ground water or pond water, wherever they source it from. So even when the filters clear the water off all visible dirt, the smell and taste don't seem to change much."
"We are not sure if the make and quality of the ROs matter that much, but they could be deciding factors too. Maybe expensive makes of water filters work well at filtering such murky water," he adds.
Advocate Shelly Pandya, a resident of Hyde Park in sector 35 G, "We had an RO but had to buy another, costing Rs. 8000, to be able to filter the muddy and smelly water being supplied by the tankers. And even though the new RO does a pretty good job, it is just not the same as regular water supply."
"While residents of our society have ROs installed, many of the middle class families in the area don't have any owing to the costs. These families are also not in a position to buy bottled water every day. So, they have been using tanker water, which is unfit for drinking. However, many have started cutting down their budgets for the sake of buying bottled water at least twice in a week for fear of water borne diseases. Boiling water everyday too, is not cheap, owing to the amount of gas required to boil it."
CIDCO had assured that the water issues of Kharghar and other neighbouring nodes would be resolved by the end of May 2022, subject to completion of work being carried out at the Hetawane Dam.
Earlier in the month, local corporator, Leena Garad, had also visited the Hetwane Dam to check the water level and status of ongoing repairs and modifications. She had revealed some startling facts too.
Also read: Kharghar Corporator Leena Garad visits Hetawane Dam
It is almost the end of June now, and residents are yet to receive adequate water supply.
Our (LocalPress.in) view

Well, we are well aware of the predicament as we are situated in Kharghar ourselves and have been spending around 2000 every month on buying bottled water.
Last Updated on June 22, 2022 by lp@admin