The scared, and seemingly famished bird, simply sat around the swimming pool of the society its rescuers lived in.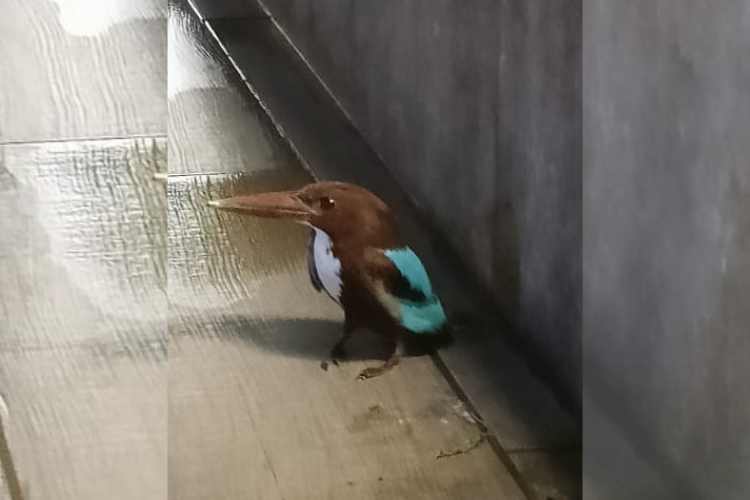 Taloja / Panvel / Navi Mumbai: Two local residents of Taloja Ghot gaon, recently helped rescue a sick kingfisher, they had found sitting blankly near the swimming pool of their society.
The bird was stationary and was in danger of being mauled by stray dogs, cats and rats.
Deepak Prajapati, one of the rescuers, residing in Taloja, who happens to works with ACTREC – Kharghar, was out for a stroll in his society when he saw a pretty blue bird sitting in a corner near the swimming pool.
The bird looked hypnotised for one and did not react much to its surroundings.
He had not thought that he was being involved in a short story of rescue, one that would teach him somethings and also provide a feeling of accomplishment.
Prajapati shared the story with us as follows:
Alone and scared
"I was just out for a stroll when my eyes caught glimpse of this lovely bird, that, as I first thought, was sheltered owing to the rain. I thought of feeding it but its beak kind of scared me a bit. So, I kept my distance and simply took some photographs and went home. However, I was surprised to find it at the same spot the next day too. It was scared for sure and simply sitting alone for reasons I could not understand. I tried feeding it something but it did not like it a bit and cornered itself further into the bushes." Prajapati said.
Danger lurking around!
"While I kept admiring the beautiful bird, I happened to see two fully grown rats lurking around the bushes and that looked scary enough to me. I thought they would try getting to the bird at some point of time, if it did not fly away. Something had to be done, so I thought of capturing it, but the beak scared me again. Also, I had never caught a bird before."
Help can be found!
"As I kept wondering what I could do, I came across some kids in my society and made them aware of the situation. I suggested catching it with the help of a cloth and one of the kids, Sarang Bhagle, a college student, who was initially scared of the beak, made up his mind to lend a helping hand."
Caught!
"We brought a cloth and after some experimenting, were able to figure out how to capture it. After some tiring efforts, and the constant fear of either being pecked by the bird, or hurting it in some undesired manner, we were able to catch it."
A safe place for a day or two!
"Bhagle extended his help by agreeing to take the bird home and tend to its needs for a day or two, till we were able to get help from some bird rescue organisation. He arranged for a cardboard box to keep the bird safely in. I felt glad that at least it did not have any external threat for a few days."
Bird rescue is hectic!
"The next day was very hectic to say the least and very unsatisfactory for us. I tried every number of every animal rescue organisation in and around the city but all I could get was numbers of other organisations. They were simply passing it on to the other one. Every such organisation gave me nothing more than "another number" or excuses ranging from "logistic issues" to "out of work scope" to what not."
"I had called almost every visible ngo between 12 pm and 6 pm, but all I could get were reasons for not being able to help. It was very disappointing."
"I can specifically mention the names of all the ngos I had called and spoken to but that would gain nothing. I have zero expectations from them now."
Local rescuers to the rescue!
"Finally, one of my journalist friends helped me out with the number of a local snake rescuer Aniket Gaikwad, who referred another rescuer, Hemant Todkar, who lived in Kharghar. Todkar did not waste any time and immediately came to visit us. He did an initial prognosis based on experience and said that he would tend to it for a day or two and then decide what was to be done."
Free to fly again!
"Two days after Todkar took the bird, he called me up to share a video of the bird that looked hale and hearty, being released at a local pond near Taloja. I was so delighted to see the bird finally flying away to freedom and with renewed energy."
Parting words!
"Well, in my opinion and experience, local rescuers, who are not necessarily associated with big organisation, and work on local levels, are the best choice for such rescues. Even local people lend a helping hand as I have experienced in the last few years. Do support local rescuers and provide them with the leverage they well deserve. After all, it is the local community that helps in the end."
LocalPressIn spoke with Hemant Todkar, the local rescuer, who turned out to be a local vet and snake rescuer, and member of Punarvasu Foundation, founded by Pritam Dilip Bhusane, which rescues snakes and birds. Todkar, as a vet, tends to cows in several gaushalas between Kharghar and Panvel.
"I received a call from these people who had taken home a kingfisher and had no clue what had to be done further. First of all, I was very pleased to see that some young people were so concerned for something as small as a bird that would hardly matter to most."
"When I saw the bird, I realised that it was seemingly exhausted due to the hot climate we have had over the last week before the rain and also because of lack of food."
"I took it home and fed it with some multivitamins and raw fish for two days and hoped that it recuperated well. To my pleasant surprise the bird was hopping and flying around in my house whenever it was let out of the enclosure we had kept it in for safety."
"Once I was sure that the bird was fully recuperated, I took it to the pond near Taloja Jail and let it fly away. it just swept away in joy."
Keep these details handy:
Punarvasu Foundation – Pritam Dilip Bhusane – 9619132555 (official), Hemant Todkar – 9923120113, Aniket Gaikwad – 9594438168
Last Updated on January 23, 2022 by lp@admin