Residents sang, danced, flew kites, and simply made merry as they celebrated gathered post Makar Sankranti and Lohri festivals.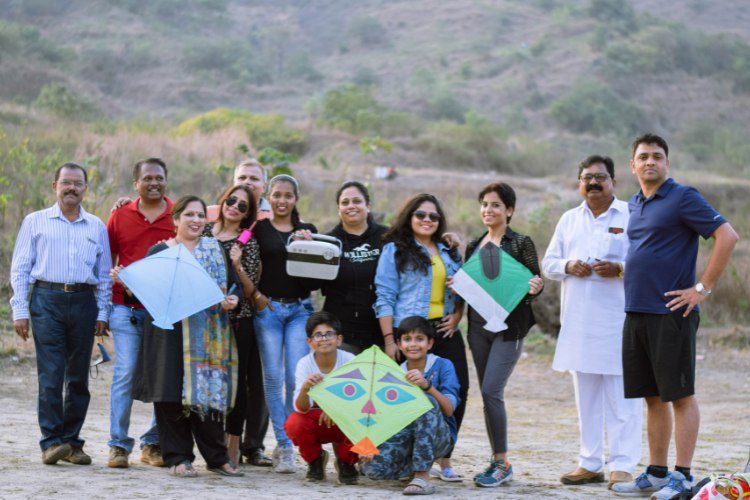 Kharghar / Panvel / Navi Mumbai: On Sunday, the Taloja Jail Pond (sector 35 pond), was abuzz with many local families coming together to celebrate Makar Sankranti and Lohri. Readers must be aware that pandemic had kept the harvest celebrations under the wraps this year too.
So, on this weekend, some of the residents were seen indulging in humble celebrations at some local hotspots.
The Taloja Jail Pond, or sector 35 pond, as some people address it, is a picnic spot of sorts for Kharghar residents, and is always buzzing with life on weekends. It is right at the foot of the hills where people trek on weekends, and at a stone's throw from the Taloja Central Jail.
This weekend was a little special though, owing to the recently concluded festivals like Makar Sankranti, Lohri, Bihu etc., which were celebrated indoors owing to the pandemic.
Many families had gathered at the Taloja pond along with their children and pets too, in festive mood and the atmosphere was simply vibrant.
Nilesh Singh, one of the people we met, had driven in with a group of friends from the sectors around Jal Vayu Vihar, Kharghar.
"Lohri is celebrated in a very grand way in the north, our native place, but this year we had to keep it low and indoors owing to the pandemic. So, today we thought of having a small celebration and get together of sorts here, without ignoring the norms set by the administration," Singh said.
Kite flying is said to be an important ritual during Makar Sankranti and many could be seen trying their hands at it.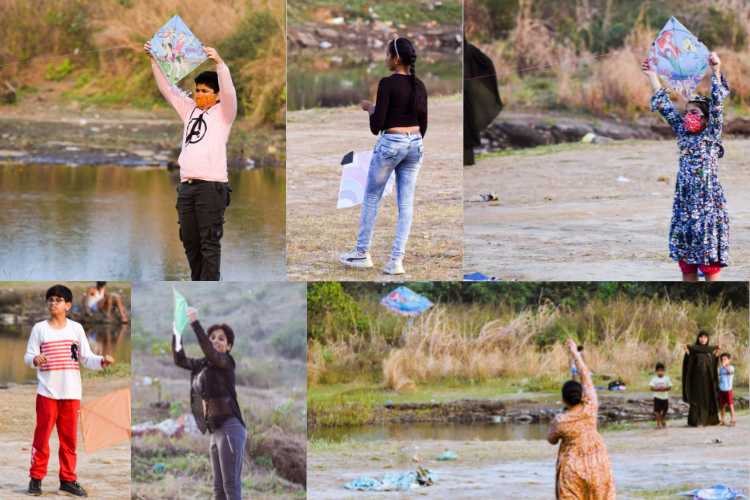 It was such a delight to watch parents helping their children to learn flying kites, while also trying to get back in the groove themselves.
"Flying kites is nostalgic for many of the older ones, and the emotions could be clearly read on the faces of many gathered here. We used to fly kites all the time during childhood and it was an exhilarating game for us. The joy of taking the kite high up in the sky and then snagging the kites of others, and cutting them down, was matchless," a parent flying kite with his daughter shared.
The children were equally enthusiastic about kite flying and were trying everything to lift those paper joys up in the sky.
"I have never tried flying a kite before as I have never got the chance to do so. Today, I did it for the first time and it flew a bit. I will learn it for sure and fly it high next year," said one of the little boys amused by kite flying.
While most of them were content with flying kites, the others, especially the women members of the families, were all in the mood to sing and dance to traditional as well as old bollywood melodies.
A group of women from the Sandhu, Singh, Tyagi and Shipurkar families were all in the mood and setting of singing their way into the evening, with one of them being the lead singer with an actually good voice.
Watch: Kharghar residents celebrate Makar Sankranti and Lohri at Taloja Jail pond
"Lohri is all about rejoicing, singing and dancing, as you must have seen in the movies too. We, at north India need a little bit of that in our celebrations. So, we came here to celebrate it with family and friends," said Monika, one of the women in group.
To be frank, they were good at it, as we heard a good share of the songs that were sung by them.
There were some snacks, tea and traditional sweets too, and we had some of those ourselves.
Last Updated on January 30, 2022 by lp@admin