The pandemic has not dampened the spirits of dog lovers who are sneaking out to visit isolated spots in Kharghar to have a personal time with their best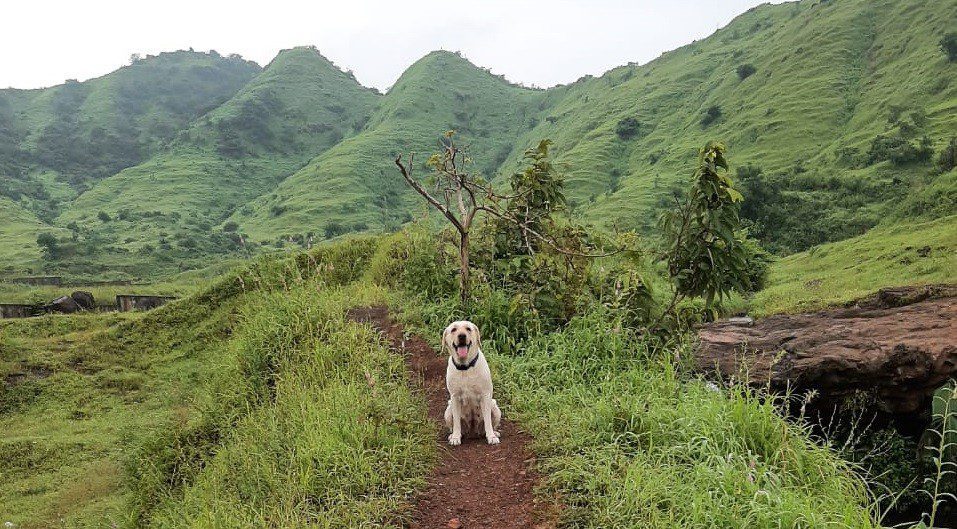 Navi Mumbai / Kharghar / PMC: It has been more than 7 months since dog lovers walked around freely with their pets, met other dog lovers or hosted weekly pet meetings. The Covid-19 pandemic has turned all such plans upside down. However, some dog lovers in Kharghar have been visiting isolated green spots to spend some quality time with their dogs and also to allow them to exercise a bit.
It has been more than a month since monsoons knocked at the doors of Kharghar, spreading around a fresh green mat of grass, water-filled streams, flowing waterfalls, splashing rain, dark clouds and tons of nostalgia.
In short, Kharghar has turned into the green heaven it turns into, every rainy season. Sadly, people are no longer allowed to enjoy it like they could do, a year back.
Harpal Singh Naol, a dog lover who also has a female pet dog, an exuberant Labrador called Simmi, shares, "We used to go out in the rains for long walks, or play around in the open ground near Gurudwara (Central Park), and simply have fun in puddles and water streams. We used to do that with a group of dog lovers. However, it has been many months since we all met openly."
So has that put a complete stop to outdoor activities for pet dogs?
"Frankly most of the pet dogs have not been able to enjoy outdoor activities more frequently owing to the lockdown and now the social distancing norms and the general fear of the pandemic. Luckily, for people like us who run small businesses or relaxed jobs (jobs with simple workflows), there are many isolated spots in Kharghar, like the one we visit near Owe Camp Hills. Such places allow people to spend some quality time alone or with their dogs. I take my pet dog to that place early in the morning and it is a wonderful place to be at, as it is filled with grass and there is a small waterfall and a stream flowing from it that goes a long way. My dog loses herself in the green terrain and I become happy to see her enjoying the best of nature," Naol adds.
Rains in Kharghar had a different meaning for Kharghar residents just a year back, especially dog lovers, who would go out for long walks in the rain or for energizing sprints on one of the many open grounds in the area. Dogs and their men (also women), loved the rains and cherished single every day of it, something they have not been able to do in the present pandemic situation.
Kapil Malhotra, dog lover, who has a street dog at home, and runs a pet shop called The Bark Treat at Centurion Mall at Seawoods, shares, "There are many dog owners in Kharghar and on a normal day, you can see many of them doing the rounds of the many streets in the area with their dogs. Dogs need daily walks and some form of exercise to stay mentally and physically fit. However, since the last six or seven months, although people have been spending more time with their pets, both the pet and the owner, have been unable to go out much. That has been putting a lot of pressure on both."
So, how have dog owners been dealing with the situation now?
"Dog owners, or pet owners in general, have been spending a lot of time together at home and they can call themselves lucky for that. But what about outdoor activities? Going outside the house for shorts walks is an important part of everyone's life and dogs at least need to go out regularly. Luckily, Kharghar has a lot of open space, hills and other isolated places that are not frequented by anyone. I take my dog for a walk and play at an open green ground near Central Park's proposed phase II. It is huge and used to remain empty even before the Covid-19 pandemic arrived," Malhotra adds.
What about other pet dog owners in Kharghar?
We spoke to a couple of more dog owners who did the same, with every one of them having marked an isolated spot or patch of land around the hills, or some open ground in Kharghar or one near their own society.
However, the numbers have been very low as many of the dog owners have a lot on their plates already given the job scenario and increased work – a perk of the new work from home culture.
Still, those who still manage to take some time out and are lucky enough to find a personal spot in Kharghar, make the most of it, in every possible way.
Personally, we think that although food has been a pressing issue for street dogs in Kharghar, they have been the only ones enjoying nature and the newfound freedom during the pandemic. We will be writing another piece on it soon!
So, if you have a dog, find a spot around your place!
Last Updated on September 24, 2020 by lp@admin