The protest march saw 600 or more business owners walking from Utsav Chowk to sector 12 market area.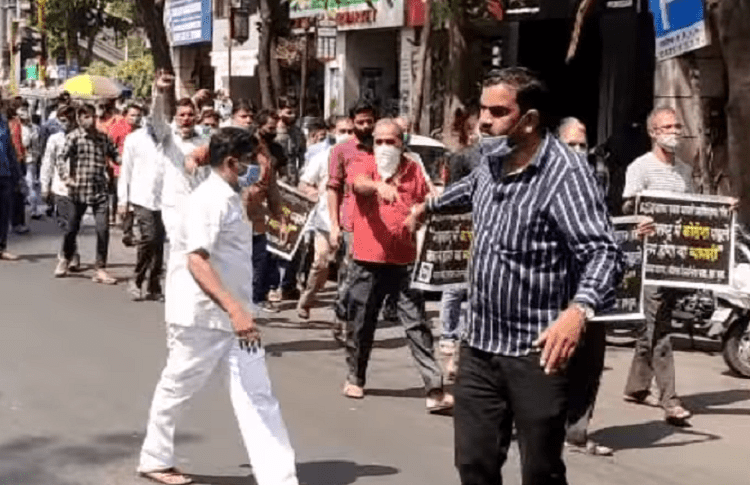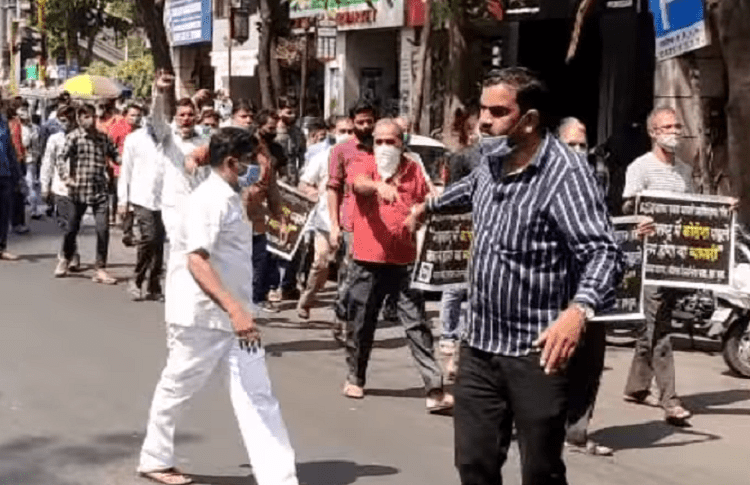 Kharghar / Navi Mumbai / PMC: Following up on their stand against the new 'Mini Lockdown' restrictions, local business owners in Kharghar took out a protest march on 7th April, 2021. More than 500 people walked back to back, holding placards and shouting the slogan "Jeene Do Jeene Do, Vyapari ko Jeene Do" in what is being called an act of 'Gandhigiri' of sorts!
On 5th April, 2021, there had been an angry protest in Kharghar, when the PMC administration had asked shop and business owners to shut down their shops and office.
The officials had even sealed a few establishments further angering shop owners.
It was only afer the timely intervention of Kharghar Senior Police Inspector Shatrughan Mali, that the angry crowd was finally dispersed.
Also read: Navi Mumbai 'Mini Lockdown'met with angry protests
There had been similar protests in nodes like Kalamboli and Seawoods as well, where angry business owners had bluntly rebuked the governance for what they had called an inhumane decision.
Later that day all business owners in Kharghar met to discuss their plan of action to voice their concerns agaisnt the rash decision taken by the government.
The Ekta Vyapari Sangh then decided to adopt 'Gandhigiri' to protest against the new covid-19 lockdown rules.
More than 600 such business owners from Kharghar gathered at the Utsav Chowk in the morning with placards reading the message – "Businessmen Would End Before Corona" with loud slogans of "Let Businessmen Live"!
The protesters walked all the way to the market area of sector 12.
Kharghar business owners plan to carry out many such protest till a viable solution is proposed by the government and local administration.
However, the PMC has kept their stand clear that they have been acting on behalf of the decision made by the state government.
Last Updated on April 8, 2021 by lp@admin