The four-day mega property exhibition will be held from 13 May to 16 May on the ground opposite CIDCO exhibition centre at Vashi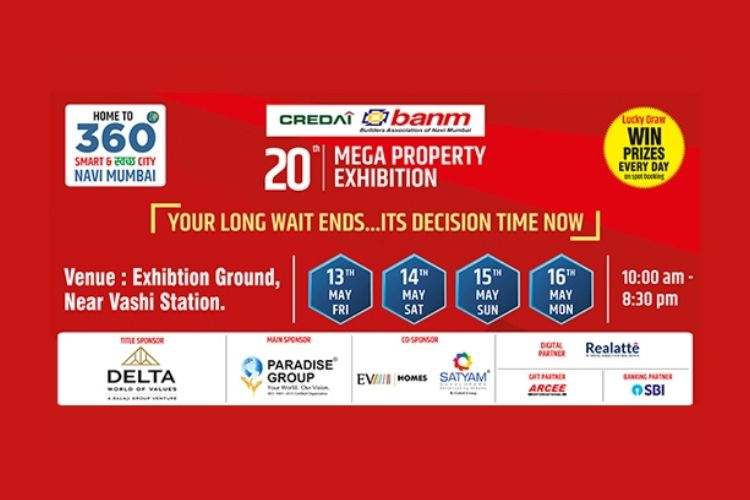 Vashi / Navi Mumbai: The Confederation of Real Estate Developers' Associations of India (CREDAI) and Builders' Association of Navi Mumbai (BANM) will flag off their 20th Mega Property Exhibition tomorrow at Vashi, after a hiatus of three years, and they will be offering a lot more than all previous exhibitions, they claim.
The CREDAI-BANM 2022 Mega Property Exhibition is themed on "360 Degree Smart and Swachh City – Navi Mumbai" and will be held for four exciting days between 13 May and 16 May 2022.
Developers are putting their hopes on this exhibition as a sort of comeback event for many big and small developers from Navi Mumbai, Khopoli, and Karjat.
"We have been literally out of the picture first due to the issues pertaining to GST in the year 2019, followed by the covid-19 pandemic that had hit hard both the home buyers and developers. It had been hard three years for all but finally things seem to be turning in the right direction," a spokesperson of BANM exclaimed.
"Home buyers will be literally spoiled for choice in this 20th mega property exhibition, for the variety of projects our partner developers will be offering to them," he added.
Highlights of the CREDAI-BANM 20th Mega Property Exhibition:
More than 100 participating developers
Affordable properties starting at Rs. 20 Lakh
Premium properties up to Rs. 10 crores
Ready housing finance from partner banks and financial institutions
Daily luck draw prizes on spot booking
Areas between Airoli and Khopoli up to Karjat, to be showcased
Redevelopment projects by Arihant & Godrej  in Vashi) to be highlighted
Focus on Navi Mumbai as the ultimate 360 degree Smart and Swachh City
Vast offering of Affordable housing, Premium residences, Second Homes/Plots and Commercial properties
Developers expecting collective business of Rs 1000 crores through the exhibition
CREDAI-BANM 20th Mega Property Exhibition 2022: Dates, Venue & Timing Details
Event Dates: 13th, 14th, 15th and 16th May 2022.
Exhibition Venue: Open grounds opposite CIDCO Exhibition Centre, sector 30 A, Vashi, Navi Mumbai
Timing of the Exhibition: 10:00 am to 8:30 pm (Friday 13 May to Monday 16 May 2022)
Google Map location/directions to reach the CREDAI-BANM 20th Mega Property Exhibition Venue at Vashi
Last Updated on May 14, 2022 by lp@admin