The virtual summit will highlight Navi Mumbai as India's centre of attraction and the best investment destination of the coming decade.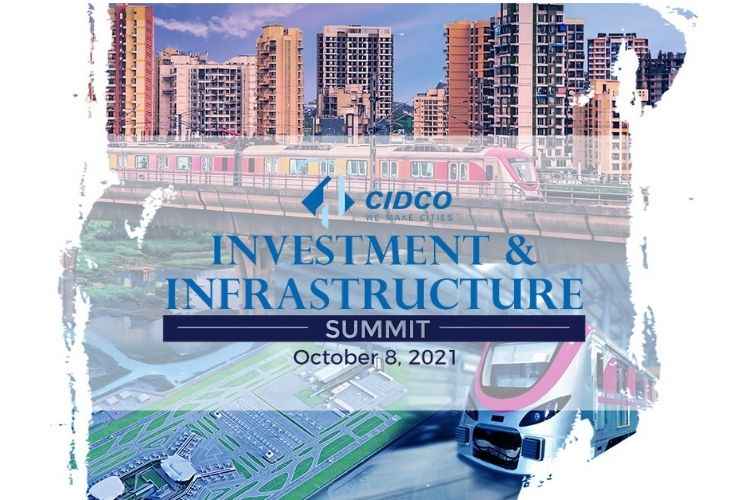 Navi Mumbai: The City and Industrial Development Corporation of Maharashtra Ltd. (CIDCO) has organized a virtual event – "Investment and Infrastructure Summit", today, 8thOctober 8, 2021, in association with Elets Technomedia Pvt Ltd.
The summit will enable discussion on the scope and extent of various investment opportunities that Navi Mumbai has to offer in the next decade or so.
This is a one of a kind summit by CIDCO and they are confident that it will help leverage the long term benefits and high returns of investing in a visionary city like Navi Mumbai.
Objectives of CIDCO's Investment and Infrastructure Summit are as follows:
Create a medium of fruitful communication between them and all stake holders like developers, investors, construction companies and several other related associations.
Discuss the various investment opportunities available in Navi Mumbai.
Hold separate and dedicated sessions with investors who have already invested in Navi Mumbai
Inform the general public about the benefits of investing in the city and sharing all information required for making an investment.
Reaffirm CIDCO's capabilities of timely completion of various projects on time
Share a wide picture of the amount and quality of construction and development carried out by CIDCO in Navi Mumbai.
Inform all present, about the successful sprint of CIDCO's development in Navi Mumbai, in sectors like hospitality, health, education, sports etc.
Help CIDCO frame policies and find solutions for creating feasible and attractive investment opportunities in Navi Mumbai.
Highlight the accomplishments of CIDCO at bringing all-around development in Navi Mumbai.
Showcase the many ambitious projects and facilitated infrastructure developments of CIDCO that have helped elevate the living standards of the residents of Navi Mumbai.
Bring into focus the many prestigious projects which are underway, like the many Mega Housing Schemes, Navi Mumbai International Airport, Navi Mumbai Metro, Corporate Park, etc. that will hugely impact the infrastructural developments in the city.
Highlight the wide and smooth transportation connectivity in Navi Mumbai which provides excellent investment opportunities to investors interested in all segments – residential or commercial.
The Summit will be attended by officials and key people from CIDCO, NAREDCO, CREDAI, MCHI who will provide their valuable insights and put forth their individual opinions.
The summit will also have experts from the fields of Education, Health, Transport and Sports.
Investment and Infrastructure Summit 2021 by CIDCO – Eligibility, Registration, Timing etc.
Last Updated on October 8, 2021 by lp@admin