Many exciting things await women at Inorbit Mall, Vashi, for a month-long celebration and extension of International Women's Day, starting 5 March, themed for butterflies; Women!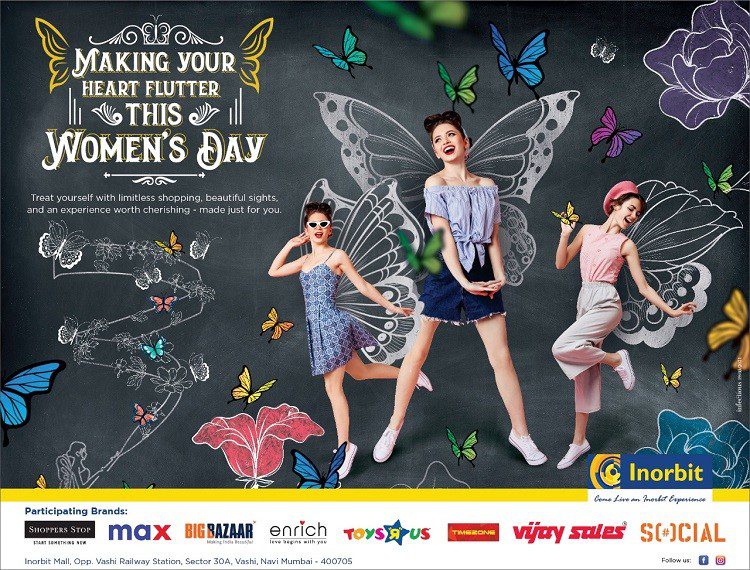 Vashi / Navi Mumbai: As the city gears up to celebrate International Women's Day, Inorbit Mall, Vashi, plans not to limit the celebration to a single day. One day is too little to celebrate the women in our lives, right? Having said that, the mall is kick-starting their women's day celebrations tomorrow, 5 March, 2021 and will continue to be in the celebration mood till the end of month.
Isn't that exciting? And they have some eye catching décor and thrilling activities planned for all the women who show up at the mall this month.
Grab your "Me Time" with a free make-over session.
Well, if you have been longing for a make-over for since months, or years, then it is going to be your lucky day. Walk in between 6th and 14th March and get a completely free make-over session that will leave you feeling renewed! Get the "Me Time" you deserve.   
Nothing like getting a sweet rose with a personal greeting, right?
On the 7th and 8th of March, every woman who walks into Inorbit mall will be presented with a beautiful rose and a card with a loving message, just to let her know that she matters and is special in many ways.
Exclusive gifts for the shopping on weekends this month
Ther will be surprise gifts for all shopping on weekends for more than Rs. 3000, whether for themselves or their butterflies. So get ready to be surprised as you shop.  
Welcome to the enchanting land of butterflies – You!
The special butterfly themed décor for the celebration is for you alone, and will not fail to captivate your senses, taking you away to a different world altogether. Like "Butterflies" you will feel like fluttering around in unison with your kind. You need to flutter your wings every now and then with your kind, right!
It's time to rule Instagram, butterflies!
Hunting for selfie ideas and locations for your next lit Instagram DP? Well, your phone might run out of battery, trying to take selfies at the many beautifully decorated corners and railing décor at the mall. The show-stealer centre piece installation will definitely highlight your selfies, cute or wicked. So, charge your phones in advance, butterflies!
Enter the world of pink, butterflies!
Women love pink (well most do), and so, the Inorbit façade will be lit with pink butterflies' gobo, for a mesmerizing treat on the 7th and 8th of March. Who knows, you might even end up singing "Sab Pink Pink Hai"!
Special customized offers from several global brands
A wide range of offers await you as many of the global and Indian brands have offers that will leave you asking for more! You might need another hand to carry all those bags though.
Eat, eat and just eat, butterflies!
Enough of eating light all these days! Be spoilt for once and just gorge yourselves on lip-smacking delicacies crafted specially for you, by the many popular restaurants and food joints in the mall. Ignore the weigh scale this month butterflies!
So, just walk in with your besties – your sistas, and flutter around, celebrating the "Month of Butterflies" at the Inorbit, Vashi!
Event Details:
Dates: 5th March – 31st March, 2021
Time: 11am to 11:30pm
Venue: Inorbit Vashi
Last Updated on March 5, 2021 by lp@admin