The civic chief got the first shot of covid-19 vaccine at the Apollo hospital, Belapur.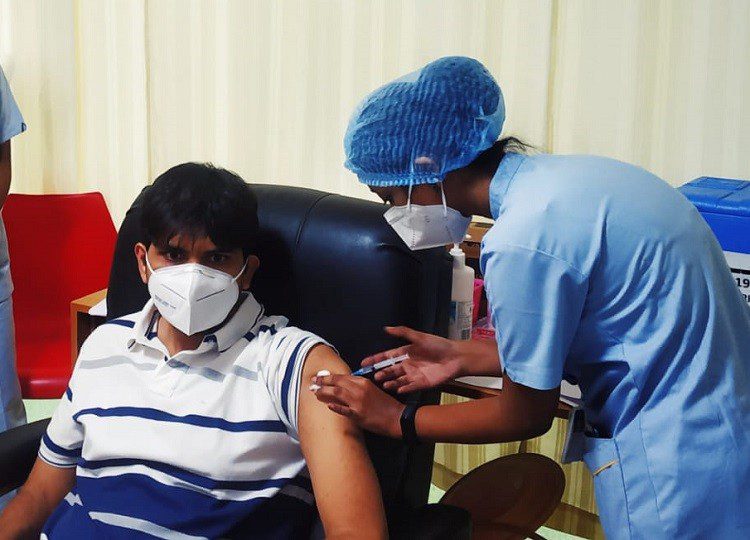 Belapur / Navi Mumbai: The commissioner of Navi Mumbai Municipal Corporation (NMMC), Abhijit Bangar, got himself vaccinated today, Wednesday, 3 February, 2021. The civic chief took the first shot of covid-19 vaccine early morning, at the Apollo Hospital, Belapur.
Talking on the occasion, a very enthusiastic Bangar made a public appeal for maximum participation of local residents in the covid-19 drive.
"I would like to assure all Navi Mumbai residents that the covid-19 vaccine is safe and everyone should get themselves registered and vaccinated at the earliest." He said.
Bangar further appealed for complete adherence to three principles of health safety – wearing a mask in public areas, maintain proper social distance in crowded places and sanitizing or washing of hands as frequently as possible.
The NMMC has geared up and is working efficiently to vaccinate as many people as possible in the next couple of days.
The covid-19 vaccination drive, which was flagged off on 16th January, 2021, had covered doctors and other health care workers in the first phase, and frontline workers like the police department, government and municipality officials, security personnel etc. in the second phase.
The drive to vaccinated general public, namely those above 60 years and 45-year-old individuals with co-morbidity, was delayed a bit on 1st March, 2021, but since then, has cover a lot of ground.
Many people are getting their family members registered to be able to get them vaccinated at the earliest.
As per the latest count, till 3rd March, 2021, a total of 25265 people had been vaccinated in Navi Mumbai.
Last Updated on March 4, 2021 by lp@admin