Dog slides, tunnels, steps and more are all set and under covers, waiting for the remaining modifications and footpath work to be completed.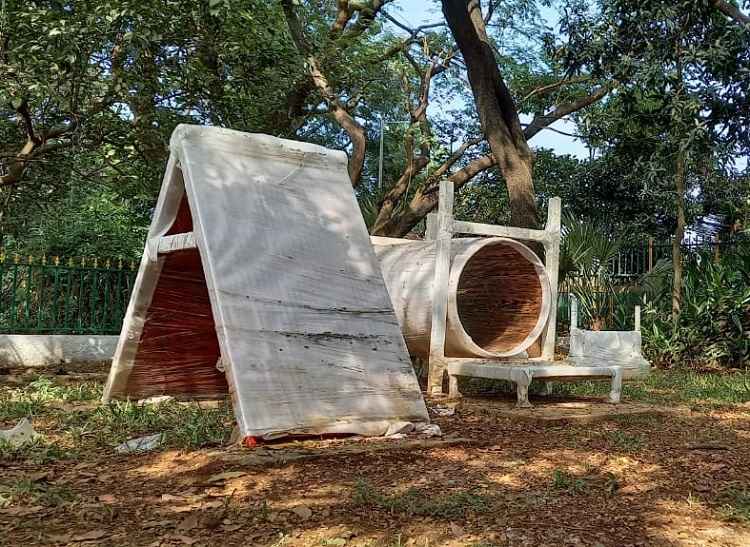 Vashi / Navi Mumbai: The much awaited dog park in Vashi's Veer Savarkar Udyan in secor 8, could be thrown open early next year in January 2022, as 95 percent of construction work has been completed, with only a few modifications and footpath work remaining.
The bhoomi pujan for the Vashi dog park was held in the month of April 2021, and work was scheduled to be completed by the month of July 2021.
However, work was delayed by a few months for many reasons.
Divya V. Gaikwad, the real brains behind the project, clarifies, "There had been an initial delay in work owing to problems in the delivery of equipment and other materials being brought in from outside the state, and then stalling of work by heavy rains."
In the last month, just after the rains finally bowed down, work on the dog park gained momentum and is nearing completion.
Also read: Navi Mumbai needs dog parks: City pet dog parents urge
"We are glad to share that we have been able to make up for lost time and have successfully deployed all major equipment in the park. You can see all the new play equipment, covered up and waiting to be unveiled. Only a few modifications remain and are being taken care of," Gaikwad informs.
The LocalPress.in team did visit the Vashi dog park and was excited to see all the neatly wrapped play equipment for dogs just sitting calmly, eagerly waiting for their furry friends to visit soon.
We hope that others will follow the example and come up with dog parks in other nodes of Navi Mumbai as well.
Here are a few photos of some of the dog play equipment at the Vashi Dog Park, under covers for now
(Photos – Ankita Kothiyal)
Last Updated on April 15, 2022 by lp@admin