Meet the volunteers of CreateTogether Foundation who have been tying reflective radium belts to the necks of street dogs in Navi Mumbai to protect them from accidents and also to given them an identity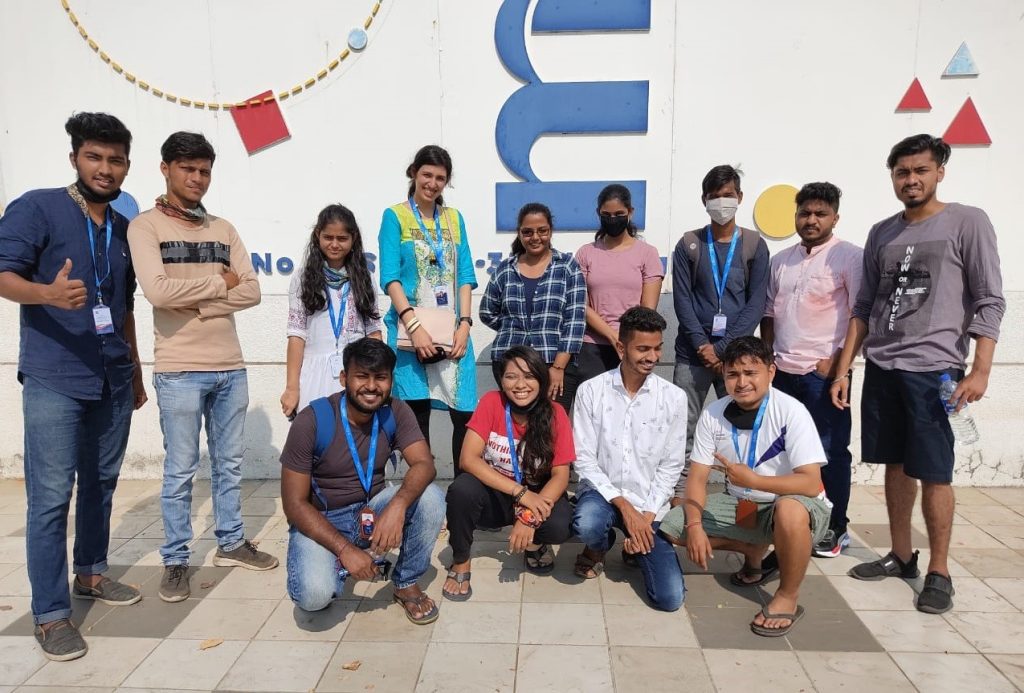 Kharghar / Navi Mumbai: There are hundreds of thousands of street dogs in Navi Mumbai and all of them roam around on the roads and streets during the nights, exposing themselves and vehicle drivers, especially those on two wheelers, to many dangers. The reason? Well, they are difficult to be located in the darkness of the night. Well, not anymore!
Thanks to young and creative volunteers of CreateTogether Foundation, who have been campaigning to "Save Precious Paws, One Collar at a Time", by tying radium belts to the necks of street dogs in Navi Mumbai. The reflective neck belts, they say, are saviours for both street dogs and motorists.
We discuss with Deepak Vishwakarma, founder of CreateTogether Foundation, about the entire campaign under "Pawsibilities", another extension of the vibrant organisation.
Can you tell us a bit about "Pawsibilities" and the campaign for street dogs in Navi Mumbai?
"Our campaign "Pawsibilities" by the very meaning of the word, explains that we can all work towards the possibility of a better world for dogs, especially street dogs and animals in general. We mean to remind people that caring for street dogs, tending to their wounds, giving them a home and loving them is a possibility if we all find in ourselves, the humanity we so much boast of."
"Through such, we thought of first carrying out simple tasks and the idea of tying reflective radium belts sprung up in everybody's minds. We thought it best to add some level of security to the lives of street dogs and so we started the activity of "Save the Paws, One Collar at a Time" in Kharghar , Kalamboli and some other nodes" he adds.
What immediate threats do street dogs pose to themselves and motorists?
"A lot of times, street dogs get hit by oncoming vehicles as they are poorly visible during the nights, especially along the highways, which they cross in search of food. Many street dogs die in such manner every now and then."
"It is a fact that there are many street dogs in Navi Mumbai and it is just not possible to keep them off the streets. Though most of them are wary of vehicles, some of them find themselves on the path of oncoming vehicles that fail to notice them. As a result accidents happen and sometimes they are dangerous," he adds
"In most of the cases where a bike or car hits a street dog, the poor animal is rendered hurt, maimed or even killed. But there is always a great threat to the life of the motorist as well," he concludes.
So, what is "Save Precious Paws, One Collar at a Time" all about?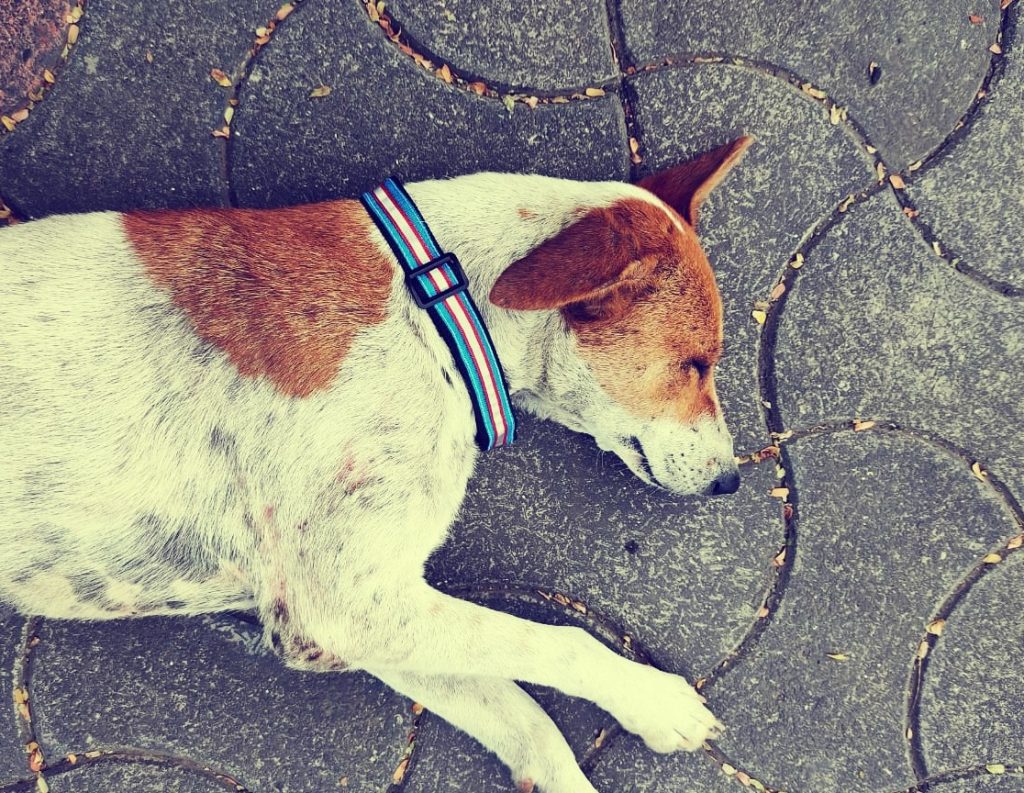 "To keep it simple, we strive to minimise the threat of accidents of street dogs in Navi Mumbai, by tying one collar to one street dog at a time. Though it doesn't literally mean that we take one dog at a time, but rather, it emphasises on the fact that we take every single dog as a unique personality and don't intend to miss any. We believe that every collar tied is a dog saved on roads."   
"This is a very simple project that people can take up individually as the belts are cheap and easy to buy. Many people have already been doing it in many cities across India. We can all replicate such good ideas in our localities," he adds.
How do the reflective radium belts help save street dogs?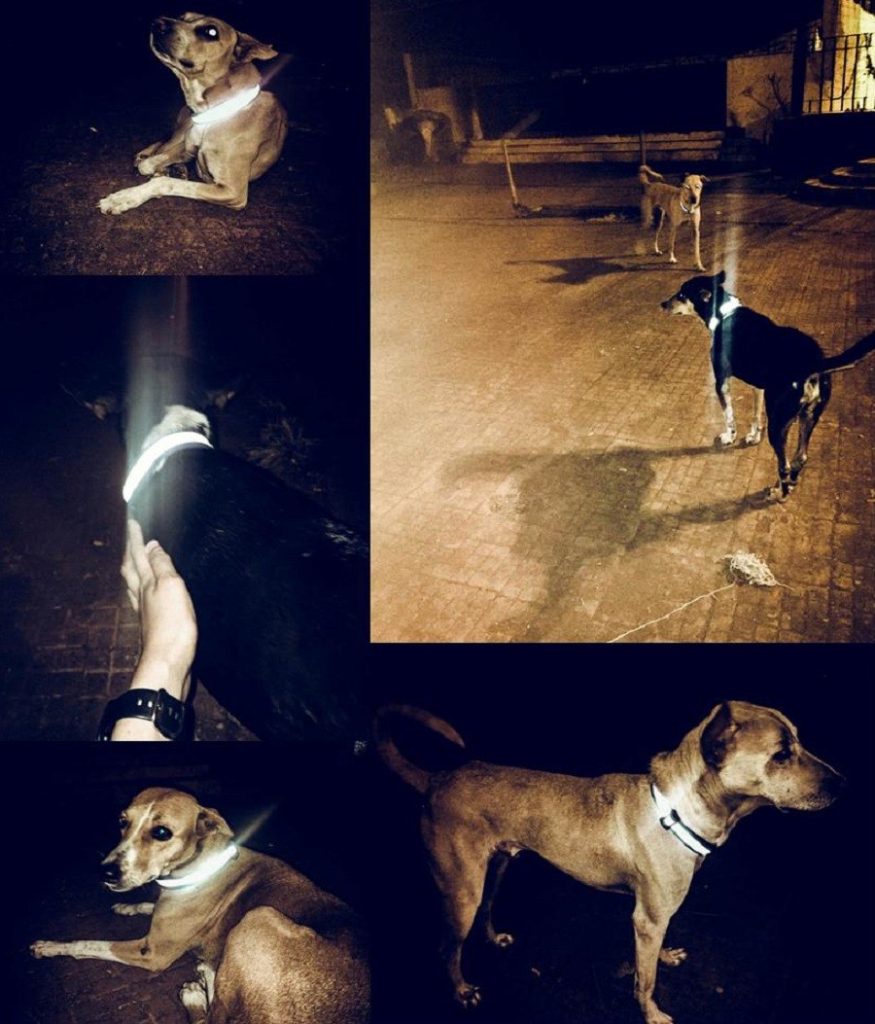 "The radium belts, as the name tells, are coated with radium which glow in the dark. It is enough to warn motorists about street dogs on their paths. At least motorists who are not drunk, don't run into dogs."
"You see, it is not just about saving street dogs but also motorists who can run into dangerous accidents after hitting or trying to escape hitting dogs on their way," he adds.
Is it easy tying belts around street dogs' necks? How do you do that?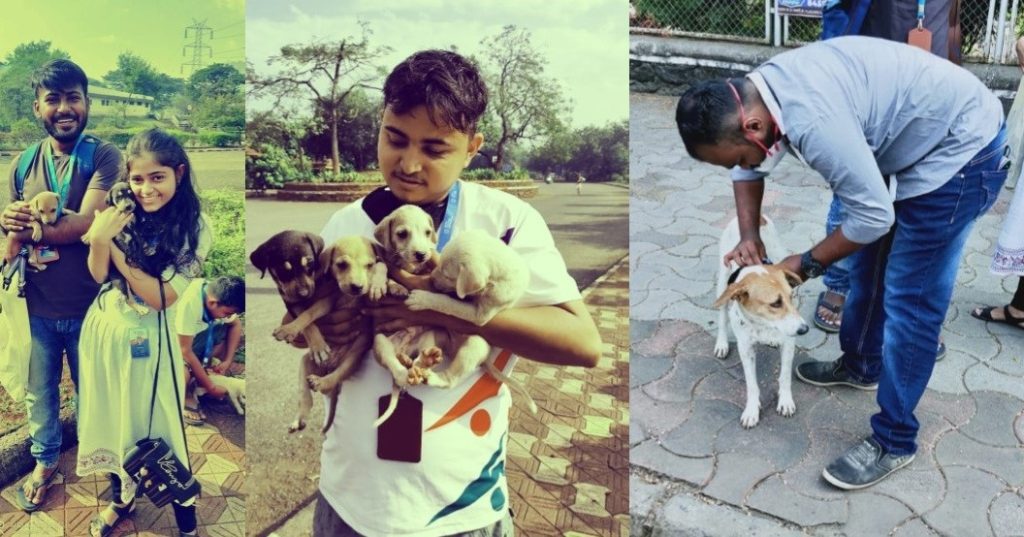 "To be frank, it is a little problematic at times. Anyone who has any kind of experience with street dogs, can tell that they take time to get familiar with you. It takes a different level of trust for them to allow you to tie something to their necks."
"Sometimes, even friendly street dogs don't appreciate a belt around their necks. They are not used to it as they are not bred to be like pet dogs who walk around comfortably in belts and dresses and what not. In some cases we have to feed them or pet them first for a long time, before they allow us to tie the belts," he adds.
Do all your volunteers share the same love and enthusiasm for street dogs?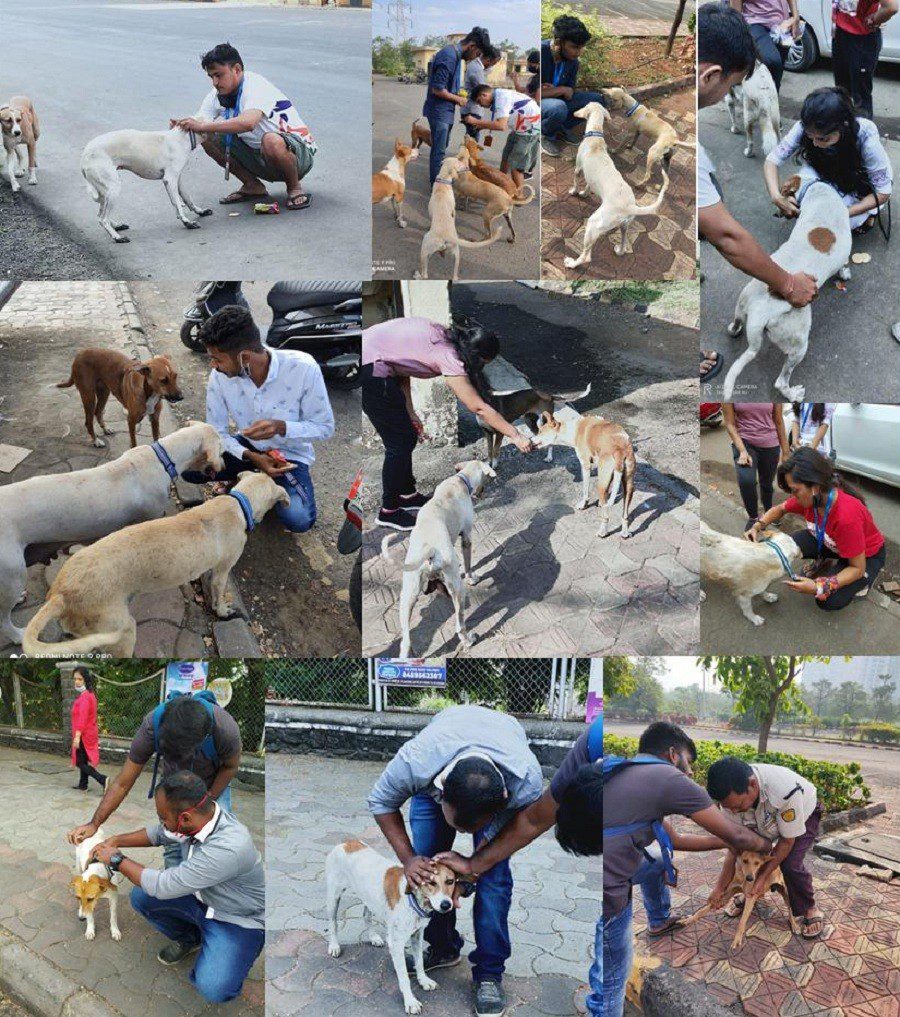 "In a broader sense, all of our volunteers love animals and strive to help them in every possible way. Some may be a little scared at times because of the lack of experience in dealing with street dogs, but eventually they learn to mingle."
"Luckily we have among us some passionate dog lovers who go out of the box to help street dogs in every possible manner. We have a volunteer called Jyoti Dubey who works diligently and passionately for the cause of street dogs as she loves them a lot. Then there is another called Pravin Yadav who shares the same enthusiasm like Jyoti," he adds.
"Two of the volunteers, Bipin Rawat and Abhay Pillai, had even been treating injured dogs on their own expenses, before they had met us. Another passionate girl called Mayanka Choukkar, is up in arms when somebody hurts or intends to hurt a street dog. Like these, we have a lot of other volunteers who contribute in their own unique ways and we are lucky to have them with us," he concludes.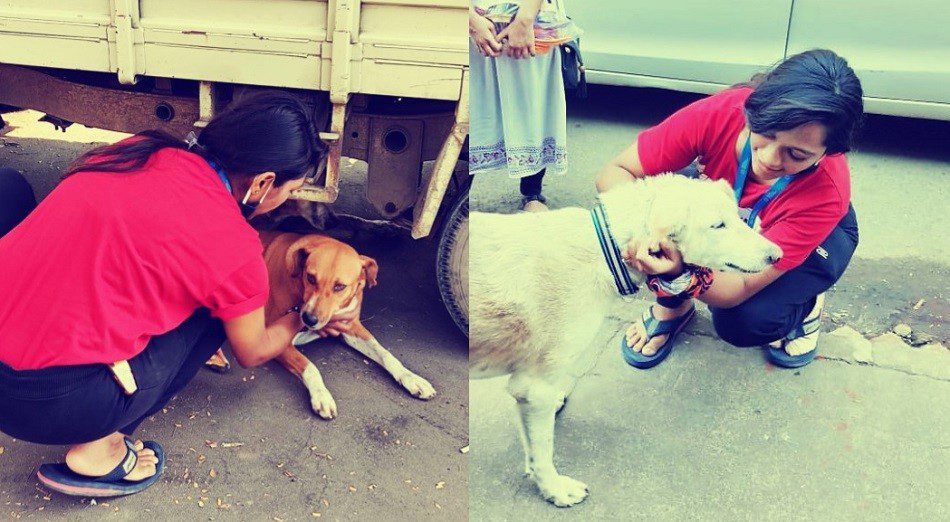 How many street dogs in Navi Mumbai have you tagged with radium belts so far?
"Well, we had covered the Kalamboli and Kharghar nodes, along with Belapur, Seawoods and Sanpada, and tied belts on the necks of more than 55 street dogs so far. It was out first such activity and we intend to increase the frequency of the drive and reach out to as many street dogs in Navi Mumbai various other nodes in the coming months."
"We have one such drive coming up this month and we intend to cover more ground," he adds.
How do you procure the radium belts? Are they sponsored?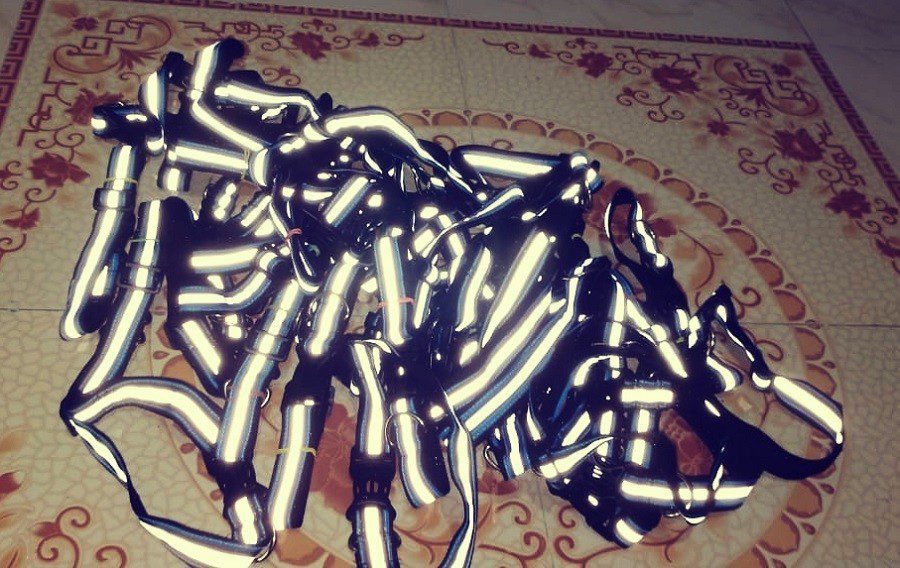 "We had bought the radium belts from an organisation in Mulund, at the cost of Rs. 25/belt. Most of the money was collected through crowdfunding through our social media pages. A lot of dog lovers and well-wishers had contributed generously. It is owing to the help of all such people that we were able to carry out the activity."
"We will continue the campaign in the same manner with the help of willing and generous contributors who can help take the campaign further, in every possible manner," he adds.
How do you plan to tie radium belts to all street dogs in Navi Mumbai?
"We will be increasing the frequency of our activities and visiting many other areas in several other nodes having a dense population of street dogs. But to be frank, it is not a one man's job or even that of a single group of people. Every person counts who joins in, counts."
"So, we will be getting in touch with dog lovers and local residents, and even societies, to tie such bands on community street dogs. We have already done that during our last activity, and many willing dog lovers had participated in their own capacities," he adds.
"We aim to cover maximum street dogs in the city with the help of local residents of Navi Mumbai," he concludes.
How frequently do you carry out the activity of tying radium belts?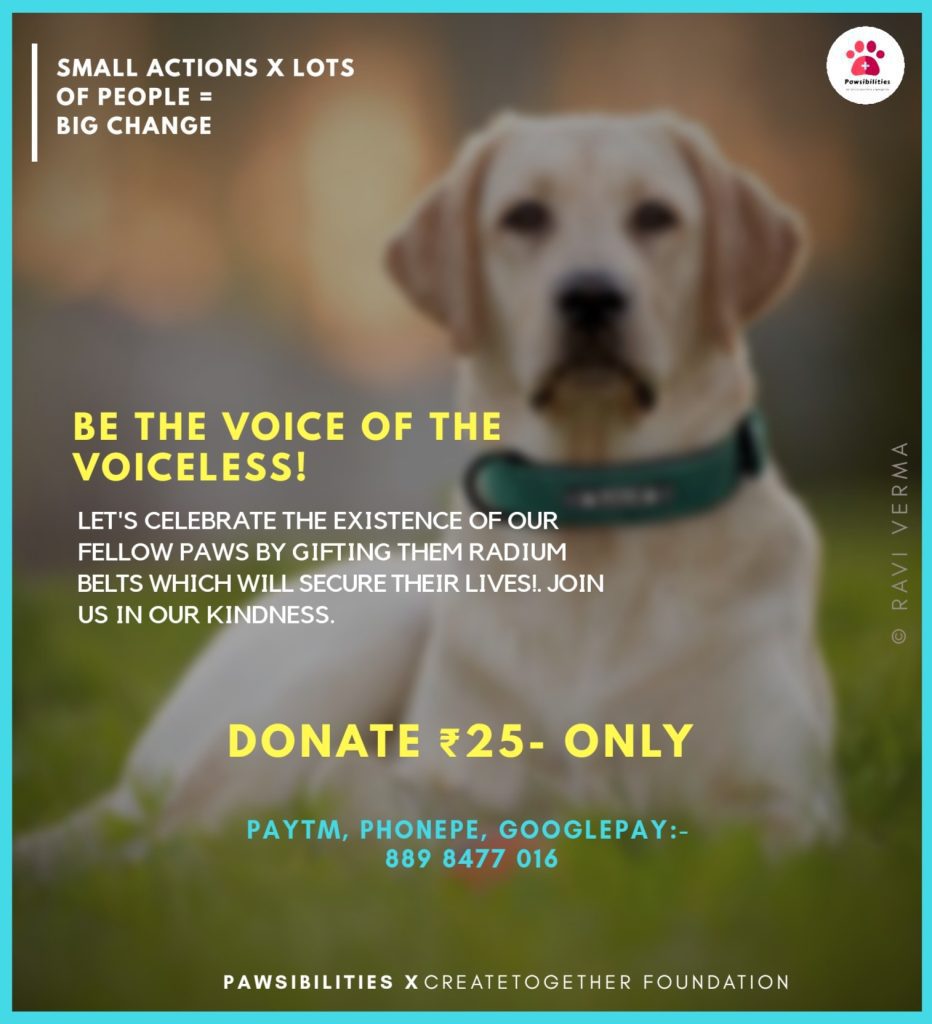 "We are still new to this and for now, have planned to conduct the activity at least twice a month. During the last activity, that was held on 14 November, on Diwali, we had a good experience on how to go about with the activity in a planned manner. So, our next activity, which is scheduled to take place on 13 December, 2020, we will be going about in a systematic manner."
To get information on future dates of radium belt activities under "Save the Paws, One Collar at a Time" in your nodes, call 8898477016
What does "Pawsibilities" cover, apart from tying radium belts to street dogs?
"We are connected with some local animal lovers and concerned citizens, who inform us about injured street dogs and we take them to vets to ensure that they receive proper treatment. A lot more can be done for injured and ailing street dogs and hence we are trying our best to connect with more and more local dog lovers, concerned citizens and vets."
"We also hope that the administration practically starts working on the veterinary hospital in Kalamboli that was promised years ago. That would help a lot," he adds.
Any message for the citizens of Navi Mumbai?
"The message is short and simple – Whatever you think that you want to do for the sake of animals in the city, no matter how hard it may seem – It is Pawsible!"
Also read: Meet Navi Mumbai's Sunday Eco Warriors Cleaning City Mountains and Ponds
For our readers:
You can help volunteers of CreateTogether Foundation to reach out to more and more street dogs in Navi Mumbai by sending your monetary donations to:
Bank Name: Union Bank of India
Account Name: CreateTogether Foundation
Account Number: A/C No: 482001010111556
IFSC Code: UBIN0548201
UPI Payment: Google Pay – Paytm – Phonpe: 8898477016
Or you can learn more about the CreateTogether Foundation before lending a helping hand by visiting the following links:
Facebook: https://www.facebook.com/CreateTogetherFoundation/
Instagram: https://www.instagram.com/createtogetherfoundation
YouTube: https://www.youtube.com/c/CreateTogetherFoundation
Twitter: https://twitter.com/CreateTogetherF
Last Updated on December 5, 2020 by lp@admin