The main sectors in Kharghar with mass housing projects like Swapnapurti and CIDCO Valley Shilp, along with some prestigious high rise towers, are also the most polluted ones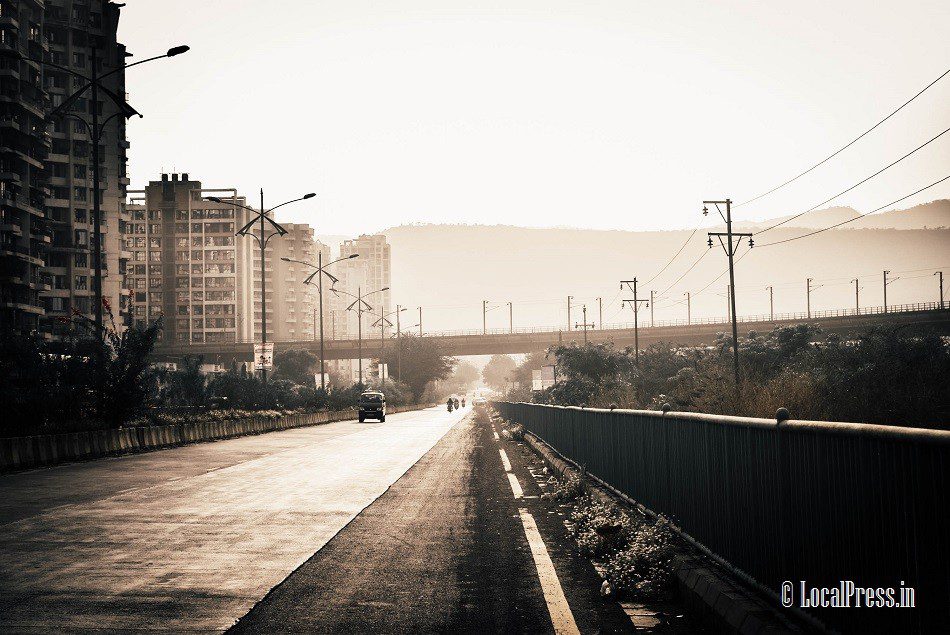 Kharghar/Taloja / Navi Mumbai/Panvel: For many home seekers, sectors 34, 35, 36 and 37 in Kharghar are the prime sectors owing to the fact that they house two mass housing projects – Swapnapurti and Valley Shilp along with some of the most exclusive residential projects in the city, like Sai World Empire, Adhiraj Samyama (Capital City), Arihant Alishan etc. located in the area. However, what many property buyers don't know about is that these are Kharghar's most polluted sectors.
For those who have heard this for the first time – Residents of Kharghar and Taloja have been battling high pollution, originating from the Taloja MIDC industrial area since many years. The pollution crisis in Kharghar is real and is plaguing the lives of local residents in many ways.
Local residents have been pleading with the Maharashtra Pollution Control Board (MPCB) and Panvel Municipal Corporation (PMC) since long but no permanent solution has been found yet.
Read the article: Kharghar and Taloja battle with pollution again, thanks to Taloja industries
Shubham Vishwakarma, a resident of Swapnapurti, Kharghar, shares, "We moved from sector 35 to Swapnapurti and are now stuck with the wrong decision. There is high level of pollution during the nights and early mornings almost every other day. We could feel the pollution in sector 35 too but here in sectors 36 and 37, the pollution gets worse and at times we have to keep our windows shut. It was much lower during the lockdown but now it is high."
Read the article: Taloja pollution is back: Pungent smell fills up the air again
Ironically, these sectors in Kharghar have been marketed a lot for some prestigious ongoing projects that demand premium rates at the promise of world class amenities.
Advocate Shelly Pandya, Kharghar, shares, "Some of the extensively marketed and highly priced residential projects of Kharghar like Sai World Empire, Adhiraj Capital City, Arihant Aalishan etc. lie in sectors 36 and 37, which are highly polluted areas owing to their proximity to the Taloja MIDC area. Their elevation will further make the impact of polluted winds worse in future. Buyers in these properties will get a first-hand experience of the pollution in Kharghar only after they move into their "dream homes" that offer "pollution" as a free amenity."

Deepak Prajapati, who works with TATA Memorial Centre, Kharghar, shares, "We recently shifted to our own house in Taloja Ghot area and are bearing with the pollution on a day to day basis. The air is highly polluted and the stench is unbearable at times. We live in a premium society but with windows shut tight. There are times when we can feel a burning sensation in our eyes and nose. It is the same with people in Taloja and those in sectors 34, 35, 36 and 37 of Kharghar."
There has been an ongoing struggle of Kharghar and Taloja residents against the Taloja MIDC pollution and for reasons best known to the authorities, the problem persists.
Jaspal Singh Naol, a Journalist and Social Activist, residing in Kharghar since more than two decades, shares, "It is a gimmick that people on desks like to play on local residents. The fact is that if somebody wants a problem fixed then they get it fixed. Any excuse given for not being able to fix it is just a farce. The authorities seem to underestimate or simply ignore the pollution in Kharghar and Taloja."
"Kharghar and Taloja have a serious pollution crisis which is slowly making local residents sick. We will be shortly coming up with a detailed report on the effects of pollution in Kharghar and Taloja on the health of local residents," he adds.
While pollution is at it's highest in Taloja's residential areas in both Taloja Phase-1 and Taloja Phase-2 and the surrounding under development village like Ghot village, sectors like 34, 35, 36 and 37 in Kharghar have to bear with the problem owing to their close proximity to Taloja.
During most of the days, the mornings in these sectors in Kharghar are shrouded by a thick smog and pungent stench in the air owing to the hazardous emissions from polluting units in Taloja MIDC area.
Watch – Pollution in Kharghar sector 35 and surrounding sectors during the mornings
The nights in Kharghar sectors 34, 35, 36 and 37 are even more problematic as you can literally feel the stench inside your system if you sleep with open windows. The air gets hazy and a strong irritating stench persists for long hours through the night.
Kharghar residents assert that the administration acknowledges the pollution in Kharghar and Taloja but have not been taking practical and effective steps to tackle it.
Jaspal Singh asserts, "Sending notices to a handful of units in the Taloja MIDC and then believing that they will comply for years to come, will not solve the pollution issues in Kharghar and Taloja. There has to be a real time monitoring and continuous inspection of the units in the industrial area of Taloja and stringent action should be taken immediately. The MPCB and PMC should think beyond burying the issues in paperwork for once."
Read the article: Taloja Pollution: MPCB orders 4 polluting Taloja companies to shut down, issues notices to 4 others
Read the article: Kharghar and Taloja Pollution: Residents get temporary relief from pollution after MPCB intervention
Recently, a month long independent monitoring conducted by a local environmental organisation "Waatavaran Foundation" revealed shocking numbers of particulate matter or PM2.5 in the air in Kharghar (sector 36 and surrounding areas and sector 7), Taloja MIDC, Navade-Taloja and Panvel.
The organisation will be sharing their report, which has already been published in several newspapers, with the Panvel municipal commissioner, local elected representatives and the MPCB.
While the numbers have shocked readers they forget or are unaware of the fact that the Taloja MIDC pollution issue was at it's peak some years ago when birds flying over the industrial units were falling down dead, dogs bathing in the Taloja creek were turning blue and local villagers were living in a perpetual state of drowsiness. If the pollution crisis in Taloja continues then it won't be surprising if it starts happening again.
In the month of June, last year, the Maharashtra Pollution Control Board (MPCB) had announced that they would setting up two Continuous Ambient Air Quality (CAAQ) monitoring stations in the Taloja MIDC chemical hub. However, the installations have not been made till date.
Read the article: Taloja chemical hub to get two CAAQ stations to monitor air quality
So, before buying properties in Kharghar sectors 34, 35, 36 and 37 and Taloja, consider the fact that you will be living in a polluted area and compromising with your heath unless of course, the administration decides to take practical steps at solving it.
Our (LocalPress.in) Opinion

Like said earlier too, we believe that the administration has to work on a specific plan to cut down the pollution. The fact is that there cannot be a complete ending of the pollution issues in Kharghar and Taloja as that would mean shifting of the entire Taloja MIDC area, which is highly improbable.

So, the besy way is to identify the polluting units, keep a tab on them and work on solutions to cut down the pollution. It may sound very simple but that is the only way to tackle the pollution in Kharghar and Taloja.
Last Updated on December 8, 2021 by lp@admin