Work on the 1500 sqmtr area is stipulated to be completed within six months and will comprise of attractions like an open amphitheatre, pergolas, food kiosks, a sculptures and a water fountain to name a few.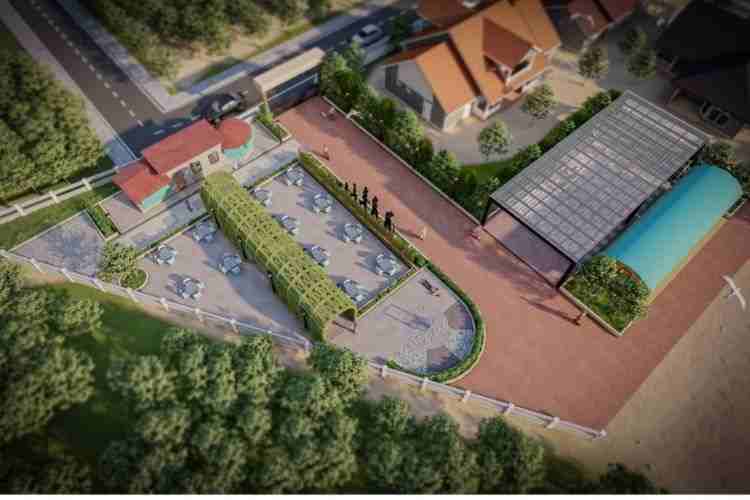 Vashi / Navi Mumbai: The Navi Mumbai Municipal Corporation (NMMC) has commenced beautification work of Sagar Vihar, after years of neglect, resulting from the indecisiveness of local authorities.
However, this time around, they have bigger plans – to transform Sagar Vihar into a tourist spot!
The local hotspot situated along the Vashi creek area has finally got due attention after the continuous efforts of former Vashi corporator Divya Vaibhav Gaikwad, and many local residents who had been pursuing the cause for years.
Apparently, the NMMC had always been in a position to beautify the area but were tied down owing to the delay in transfer of land by the City and Industrial Development Corporation of Maharashtra Ltd. (CIDCO). They kept dilly-dallying over the transfer of land to the municipal corporation for reasons best known to them.
However, CIDCO recently transferred the land to the NMMC and beautification plans have finally been set into motion.
"We would have developed the area long back if CIDCO had given us the land. Anyway, we will be carrying out a total revamping of the area, turning it into nothing less than a tourist haven," said Arvind Shinde, executive engineer, NMMC.
For readers who are unaware, Sagar Vihar was the most happening spot in Navi Mumbai decades ago. Being a creek area, it was the most frequently visited area by residents of all age groups from Vashi and neighbouring nodes. Even people from Mumbai and Thane used to visit the place.
It had been always been, and still continues to be, a favourite spot of the locals who visit during early mornings and evenings, for their daily exercise and walk routines.
Sagar Vihar was also a hit with the local youth who used to throng the area a lot before the pandemic had struck.
Apart from the good things, the spot has been notorious for being a den of anti-social elements in the past. Sagar Vihar had turned into a drunkards' den where many addicts would assemble after dark. Some unfortunate crime incidents had also taken place in the past.
However, the local police have worked hard to blot out the image, and have done it pretty well too.
Some of you would also be surprised to know that Sagar Vihar was also one of the two areas in Navi Mumbai with hovercraft services, the other being Sarovar Vihar at Belapur.
Yes, decades ago, a private company had started hovercraft services till Mumbai but unfortunately had to shut down owing to low response. Many people used to visit the area just to see the hovercraft in action.
Praful Pawar, a Vashi resident, shared, "Sagar Vihar had great potential that was wasted owing to the sheer neglect and lack of ownership of the development authority."
While Pawar was obviously upset about the way Sagar Vihar was left to waste, there were some who had a somewhat positive outlook.
Neha Singh, a teacher, residing in sector 8, Vashi, shared,"It is a fact that Sagar Vihar has been completely neglected for decades, but we are content with the fact that it will be getting revamped now. It deserves to be managed properly and we hope that the corporation will do a better job than the previous owners."
NMMC's revamping plan for Sagar Vihar:
Redoing the main entrance to Sagar Vihar and turning it into some kind of royal entrance or sorts.
Installing a sculpture of a child depicting evolution (birth till old age)
An artificial water fountain for enticing children
Using stamped concrete (textured) on the pathway in Sagar Vihar, covering over 1,500 sqm.
Barricading the entire patch of land securely
Planting bamboo trees for creating partitions inside the barricaded area
Landscaping the spaces between all bamboo partitions
Developing two pergolas (arched structure covered with plants) for sitting
The two pergolas will be situated and developed in a manner that will allow them to be in a perfect position and angel to be used as an amphitheatre during events and programmes. So community events will be a regular scene at Sagar Vihar after the redevelopment.
Apparently, many locals have also already started rooting for restarting the hovercraft services from Sagar Vihar.
Divya V. Gaikwad, former corporator from Vashi, who has also been instrumental in campaign to redevelop Sagar Vihar, shared, "We will be proposing to restart the hovercraft or water taxis from Sagar Vihar, probably in the next phase of development."
While that remains to be seen, city residents are now hoping that the NMMC will revamp Sagar Vihar in a manner that they are promising.
Last Updated on January 8, 2022 by lp@admin