The murals, made of waste, were installed to mark Mahatma Gandhi Jayanti and the inaugural ceremony of Swachh Survekshan, 2021.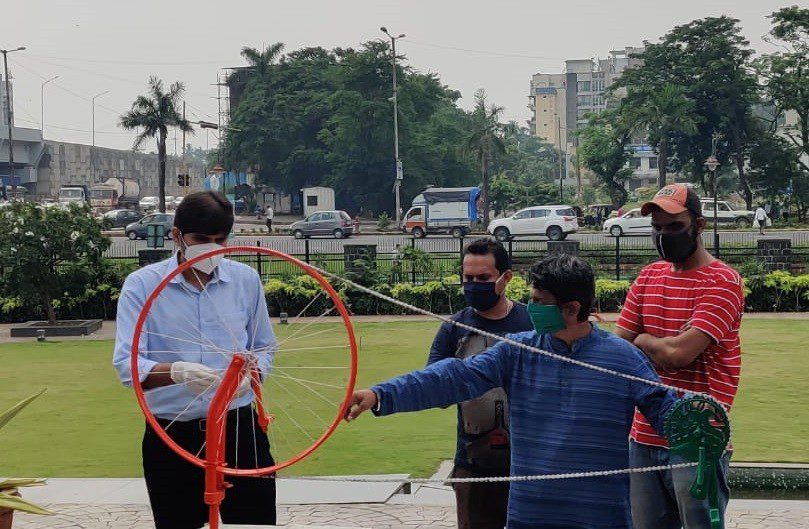 Navi Mumbai / CBD-Belapur: The Navi Mumbai Municipal Corporation (NMMC), marked Gandhi Jayanti Celebrations, 2020, in great style, by unveiling two unique murals dedicated to the Father of the Nation, Mahatma Gandhi. The murals, "Mahatma Gandhi Chashma and Charkha", are completely made out of waste.
NMMC Commissioner, Abhijeet Bangar, unveiled the murals as a mark of respect towards the Mahatma and also to officially inaugurate the Swachh Survekshan, 2021.
Readers must be aware of the fact that Navi Mumbai had been voted as the 'Third Cleanest City in India' and 'First Cleanest City in Maharashtra', something that had made both the governance and citizens proud.
It was owing to the citizens of Navi Mumbai, who had willingly and enthusiastically participated in the segregation of wet and dry garbage and recycling of waste, that the city had won such a prestigious award.
Elated by last year's success the NMMC has laid down special focus on the collection and scientific recycling of waste in the city.

The murals, made of upcycled waste cycle, discarded wood, old newspapers etc, are 5.5 feet wide and three feet high, and stand as perfect examples of the beauty that waste can bring about in many ways, if recycled properly.
They were crafted under the Swachh Bharat Abhiyan, presenting the theme 'Best out of Waste', and jointly created by the Navi Mumbai Municipal Corporation, Globalgreen Innovators Pvt Ltd and Green Society Forum
The NMMC intends to make the citizens of Navi Mumbai environmentally aware and help contribute in transforming the city into a 'Zero Waste Eco-friendly Art City'.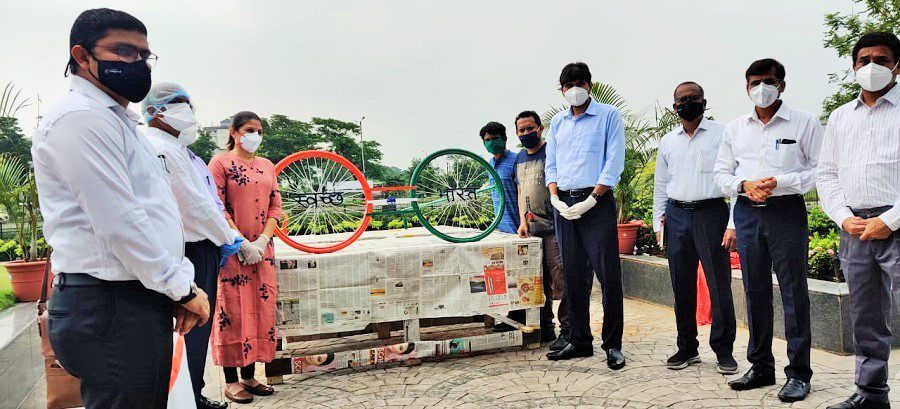 The murals were unveiled at the hands of NMMC Commissioner Abhijeet Bangar, in the presence of many officials like the Additional Commissioner Sujata Dhole, Deputy Commissioner of Administration Dr. Dadasaheb Chabukaswar, Deputy Commissioner, Solid Waste Management Babasaheb Rajale, Chief Accounts and Finance Officer Dhanraj Garad, City Engineer Surendra Patil, Deputy Commissioner Manoj Kumar Mahale, Yogesh Kaduskar, Dr. Kranti Patil, Medical Health Officer Dayanand Katke, Transport Manager Shirish Aradwad and Chief Sanitation Officer Rajendra Sonavane, among others.
The event was also attended by Senior Journalists Machindra Patil and Manoj Jalnawalla along with other dignitaries.
Proud members of Globalgreen Innovators Pvt Ltd and Green Society Forum, K Binoy, Jaspal Singh Naol, Devendra Singh and Ravi Kripalani, who had created the mural, were also present.
Just to let readers know, the two organisations mentioned above had created such murals in the past too.
Their past projects for NMMC, promoting the 'Best out of Waste' theme, include the 'Mother India Board' India Map, an e-waste mural created by reusing mother boards of non-functional and discarded laptops, installed within the NMMC Headquarters, and a one of a kind unique applied visual art 'Recycledelic FIFA Mural', installed in front of NMMC Headquarters.
The 'Recycledelic FIFA Mural' was to mark the celebration of the FIFA U-17 World Cup and aimed at creating general awareness about waste management. It was made using more than 7,000 used plastic bottle caps.
Their most visible work was the artistic board displaying the message 'Swachh Survekshan 2020', made out of upcycled e-waste and installed in the NMMC Headquarters.
Jaspal Singh Naol, Co-founder, Green Society Forum, shared, "We have an inclination towards the environment, especially recycling of waste, and we have been fortunate enough to get support and guidance from people like Babasaheb Rajale, Dy Commissioner, Solid Waste Management, NMMC, who has been a strong supporter of green causes."
"His interest and support made this mural possible in just three days' time."
Talking about future plans of the joint venture that they carry ahead with the NMMC, Naol explained, "We (including the NMMC) aim at transforming Navi Mumbai into a Zero waste, Eco Friendly and Smart Art City. It is through such murals that we will be generating interest among the citizens, gradually changing their perspectives and approach towards nature."
"We want to let the citizens of Navi Mumbai realize that recycled waste can be transformed or upcycled into some wonderful creations that can also be useful. Our mission is to decrease waste and at the same time increase the usefulness of the waste generated on a day to day basis at residential and industrial levels." He added.
As for now, the 'Mahatma Gandhi Chasma and Charkha' murals are attracting many onlookers who can be seen guessing how and what they were made of.
Last Updated on October 2, 2020 by lp@admin