The large-sized lungs installation at Kharghar will help local residents monitor the impact of air pollution on a day to day basis.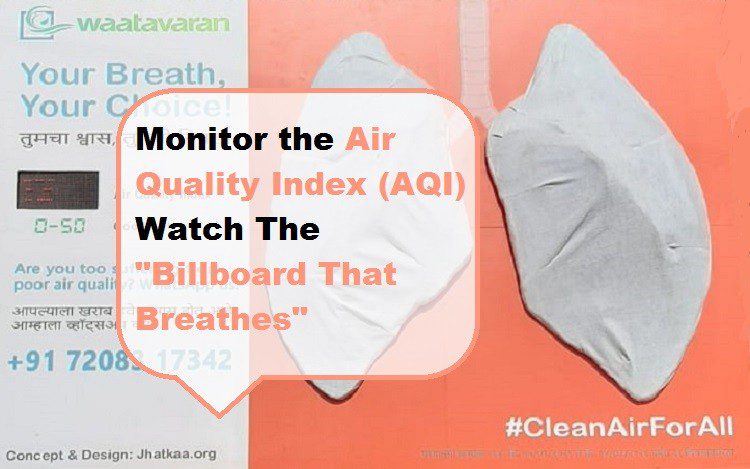 Kharghar / Panvel / Navi Mumbai: Waatavaran, the organisation that has installed the "Billboard That Breathes" installation at sector 7, Kharghar, wants local Kharghar residents to do more than just appreciate the installation; it urges them to monitor the billboard daily to keep a tab on the amount of pollution they are breathing in daily.
The giant installation mimics the breathing process of human lungs with the help of HEPA filters and a fan that sucks in air. A digital air quality monitor on the billboard further helps monitor the real-time Air Quality Index (AQI).
Bhagwan Kesbhat, founder of Waatavaran, shares "The "Billboard That Breathes" is a unique visual medium to help raise awareness about the harm that polluted air does to us on every day. While people are aware of the fact, they seem to forget it every now and then or simply pretend to believe that the pollution levels are under control. This visual aid will act like a constant reminder that the air pollution in Kharghar, emerging from Taloja MIDC, is real and isn't going anywhere unless they stand against it."
Also Read: Kharghar sectors 34, 35, 36 and 37 most polluted after Taloja area
The billboard installation will have to be monitored on a day to day basis as it changes colour over the next couple of days.
"While we will be continuously monitoring the billboard, we would urge Kharghar residents to watch it closely as it changes colour under the onslaught of particulate matter from different sources, industrial pollution and vehicular emissions alike."
Also Read: Walk and Cycle for short distances: PCMC Mayor Dr. Kavita Choutmol urges local residents
Also Read: MLA Prashant Thakur visits "Billboard That Breathes" installation at Kharghar, calls for ownership by all stakeholders
Waatavaran urges Kharghar residents to be aware of the pollution crisis in the area and try to minimise it by at least cutting down on vehicular emissions emerging out of vehicles moving within the area.
"Kharghar residents should take up cycling and walking for short distances, as even suggested by PCMC Mayor Kavita Choutmol," Keshbhat adds.
P.S. The Billboard That Breathes installation at Kharghar has already started changing colour, indicating the high amount of particulate matter in the area.
Last Updated on January 19, 2021 by lp@admin