The Maharashtra state government will be issuing a standard operation (SOP) procedure for reopening of schools in the state soon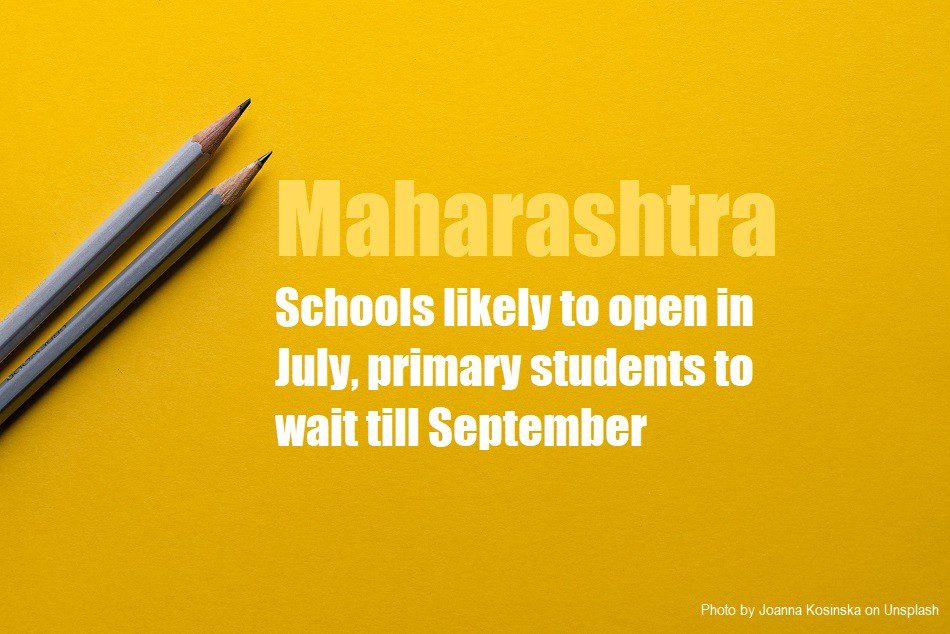 Navi Mumbai / Maharashtra: Even as India grapples with the ever increasing cases of Coronavirus cases, the central government is considering the reopening of schools soon to get a grip on the formal education of students in the country. However, the government of Maharashtra, one of the worst hit states in the country, has been wary of taking any miscalculated steps and has been taking all necessary precautions until now. Reopening of schools too is one of the pressing issues as the state government has to ensure the safety of millions of school and college students as well.
Currently, when India is in an unlock mode, with many relaxations already been given, reopening of schools and colleges is being seriously considered with the HRD ministry having assigned the NCERT and UGC to draft guidelines for schools and colleges some time back.
Also read: Reopening schools and colleges in India: NCERT and UGC drafting guidelines
The Maharashtra Education Department is now considering the reopening of schools from the month of July in a phased and well planned manner and guidelines are currently being worked upon. The guidelines or SOPs, when drafted, will be presented before the Chief Minister of Maharashtra, Uddhav Thackeray, for final approval.
Key points in guidelines/SOPS for reopening schools in Maharashtra
The following key points might form the basis of the action plan and set of guidelines to be followed to reopen schools in Maharashtra:
Schools to reopen in areas with no new coronavirus cases in a month's time
Schools to reopen in a phased manner
Classes IX to XII might resume from July
Classes VI to VIII might resume from the month of August
Classes I to V might resume from the month of September
State might direct schools to discontinue online classes for pre-primary to Class II
Time duration of online classes to be clipped to one hour for class V, two hours for classes VI to VIII and three hours for classes IX to XII
Also read: Will it be safe to open schools in India amid growing coronavirus cases?
Be it noted here, that schools around the country had been conducting online classes since more than a month. However, there has not been a strict guideline regarding online teaching. As a result of which, many parents have been irked by long and tiring teaching sessions stretched for hours, and over demanding schools that have been forcing their own rules on both students and parents.
Owing to such an uproar on social media by over-burdened parents, several state governments, including Maharashtra's has been urged to set feasible and progressive online teaching guidelines that don't burden students as well their parents.
Apparently, the Education Department is said to have been working on a strategy to increase student engagement and impart value education in the prevailing circumstances.
Last Updated on June 13, 2020 by lp@admin