The 5-day event was part of ISKCON's Janmashtami celebrations, celebrated as Radha Madanmohanji Mahotsav 2022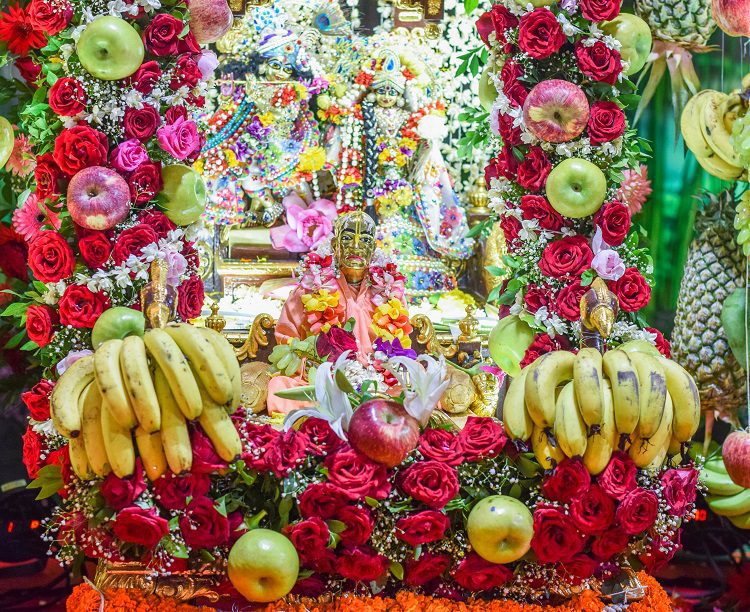 Kharghar/Panvel/Navi Mumbai: Residents of Kharghar joyfully chanted mantras in reverence of their beloved Lord Krishna, as they gathered together to pull the swing of their lord on Friday, 12th August, the last day of the Jhulan Yatra Utsav 2022, which was held from 8th to 12th August 2022, from 7.30pm to 9 pm, every evening.
The Jhulan Yatra Utsav commemorates the swing pastimes of Lord Krishna. Devotees become part of the divine transcendental pleasure, by pulling the swing, chanting the holy name of the lord.
During the last day of the Jhulan Yatra, hundreds of Krishna devotees from all around the city, engaged in Hari Nama Sankirtan, as their beloved deities were swung.
The swing itself was a delight to watch and hold on to, decorated with aromatic flowers, multi colored garlands and other paraphernalia.
As bands of ecstatic devotees gently pulled the swing, the sound of chanting echoed loud and clear, mesmerising all present.
After the Jhulan Yatra, devotees gathered again to enjoy the prasad and bhog, that was equally divine.
The event was attended by hundreds of devotees and also some prominent people who took time out from their busy schedules to participate in event.
The ISKON Jhulan Yatra Utsav 2022 was a grand celebration of the bigger celebration planned for Janmashtami till 20th August 2022.
Residents of Navi Mumbai should not miss this divine experience and join ISKCON Kharghar for Radha Madanmohanji Mahotsav 2022.
A snapshot of ISKON Kharghar's Jhulan Yatra Utsav 2022
Following are details of the ongoing and upcoming events in ISKCON Kharghar for Janmashtami 2022
Ongoing event
Bhaktiras Shravan Utsav – 12th August to 19th August, Timing – 7:30 pm to 9:30 pm.
Upcoming events
Sri Krishna Janmashtami Utsav – 18th – 20th August.
Sri Krishna Abhishek – 19th August, Kalash Abhishek – from 7.30 pm & Maha Abhishek at 12 (midnight). Temple will remain open past midnight for devotees on 18th & 19th August.
Srila Prabhupada's 126th Vyasa Puja – 20th August. Glorification – 7:15 a m onwards. Abhishek – 6:00 pm onwards. Prasad distribution throughout the day after 1 pm
Last Updated on August 14, 2022 by lp@admin