The Maharashtra Government is yet to issue official guidelines for Navratri celebrations, but many Dandiya organisers around Navi Mumbai say that they may not be hosting the annual Dandiya and Garba event this Navratri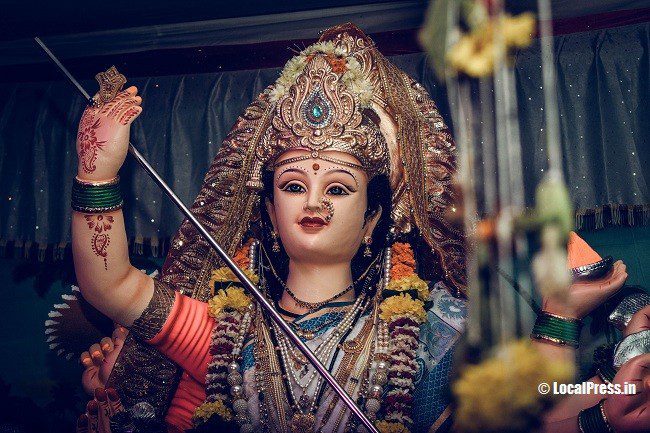 Navi Mumbai: Citizens are yet to get over the obvious dull Ganesh Utsav celebrations and here comes yet another festival that might keep an equally low profile – Navratri!
It doesn't need explaining how Navi Mumbai citizens must have felt during the restricted Ganesh Chaturthi celebrations, devoid of all community celebrations.
Coming next, Navratri celebrations in Navi Mumbai are also most likely to pass silently given the pandemic situation in the city and the way it has been progressing.
Needless to say, community celebrations are out of question as anything that attracts crowds is most likely to pave way for more infections.
Navi Mumbai Dandiya organisers not hopeful of Navratri celebrations this year
Local Dandiya & Garba organisers are already of the opinion that organising Navratri events won't be beneficial or worth the time, effort and money as the crowd restrictions will dampen the spirits of visitors.
Members of Ganesh Mandir, Kharghar, who organise dandiya and garba every year share, "Navratri celebrations is all about dandiya and garba but as the present scenario is not in favour of community celebrations, we won't be able to host the event this year. There is no point in hosting the event as there will be a restriction on the number of people to be allowed and that would leave hundreds of dandiya enthusiasts disappointed."
However, some organisers are of the opinion that they will be organising dandiya events if permitted by the government.
Most of the organisers are simply waiting for the government guidelines for Navratri celebrations to take a final decision.
Navi Mumbai citizens prefer safety over Navratri celebrations like Dandiya & Garba
Citizens of Navi Mumbai on the other hand, are having mixed feelings about the Navratri celebrations in Navi Mumbai.
Rasika Sawant, a teacher and die-hard fan of dandiya and garba raas, shares, "We used to visit almost every dandiya event in the city with our friends every year during the 9-day Navratri festival. This year, it won't be possible because we don't think that it would be advisable to hold such events. So, we will just stay home and celebrate it in a more personal way, with our families."
There are many who are content with not celebrating Navratri like every other year.
Mr. Pandya, a senior citizen and dandiya enthusiast, shares, "We can avoid the Navratri celebrations and think beyond Dandiya and Garba this year. Both are expressions of joy and happy times and at the moment, there is a lot to be taken care of due to the pandemic. Celebration should not be the cause for general predicament."
Why Dandiya and Garba events won't be possible in Navi Mumbai this Navratri
Covid-19 situation and lockdown rules
Lack of Sponsors due to losses in business/cuts in salaries
Unavailability of skilled craftsmen
Lack of labourers to do menial jobs
Unavailability of materials for events
Potential risk of exposing people to Covid-19 infected individuals
Last Updated on September 27, 2020 by lp@admin