Chhipani was awarded for her dedicated involvement in training Yoga to elder citizens under the Community Yoga Protocol for Elders, initiated by the Ayush Mantralaya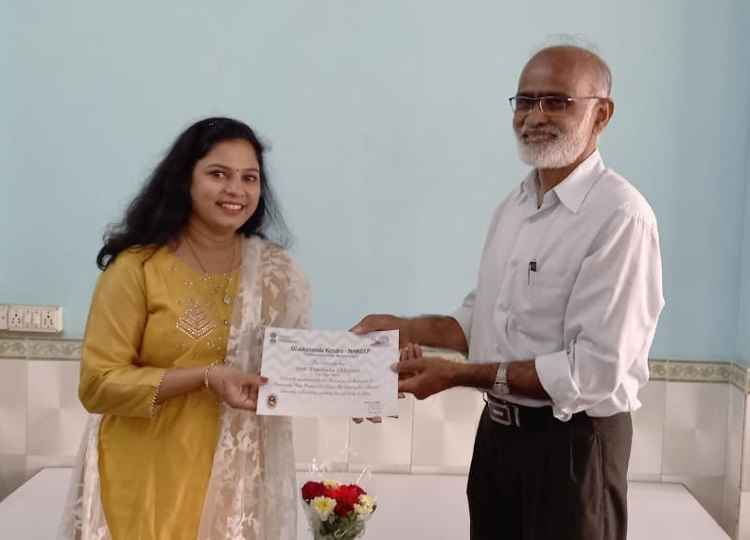 Kharghar / Navi Mumbai / Panvel: A Kharghar based Yoga instructor, Darshana Chhipani, has received a certificate of appreciation from the Ayush Mantralaya, making it a proud moment for her as well as Kharghar. Chhipani has been actively conducting a Yoga training workshop for elders in recent times.
A special Yoga training workshop was organized under the direction of Ayush Ministry by Vivekananda Kendra, NARDEP, Vivekanandapuram, Kanyakumari, under the banner of Yoga Vidya Niketan.
The workshop was specially designed for elders to help them lead a healthy life with the help of yoga.
Darshana Chhipani had been a keen participant in the Yoga workshop for elders and carried them out with great enthusiasm and success.
"I am a firm believer and active trainer of Yoga and am of the opinion that it should be included as a healthy daily habit in everybody's routines. Yoga is for all age, every ailment, body or mental," Chhipani explained.
"It is only during coronavirus pandemic that people have been looking at Yoga as a great tool for a healthy life and body – something that ancient Indian history had advocated openly."
As reader should know, teaching Yoga to children, the youth and middle aged individuals is pretty easy, but it is a different game altogether to teach the elders.
"Elder citizens are just like small babies and need a whole lot of caring and understanding when being taught Yoga or any other thing for that matter. It requires a high level of patience to deal with them and that is something that also hones the mind of a good Yoga instructor in return," Chhipani adds.
The Ayush Mantralaya appreciated all Yoga instructors who were an active part of this virtuous event, along with Chhipani for her great contribution towards a national cause of empowering the elders of the country with increased immunity and an enhanced thought of well-being.
Last Updated on September 18, 2021 by lp@admin