Though few in numbers, some families had brought home dainty eco-friendly Ganesh idols this Ganeshotsav.
Kharghar / Panvel / Navi Mumbai: This Ganeshotsav, a keen sense of responsibility could be seen around in some of the families in Navi Mumbai. In Kharghar, for instance, some families had decided to bring home eco-friendly Ganesh idols, maintaining a good balance between celebration and environmental responsibility.
On Sunday, 4th September 2022, during the 5th day Ganpati visarjan, small yet beautiful eco-friendly Ganesh idols could also be seen lined up at local immersion ponds in Kharghar, waiting for their turns to be immersed.
Of the many families we met at the Ganesh Ghat (pond) in Kutukbandhan, Kharghar, the Prasad family, a small family of three – father, mother and young son, left an impression upon us, with their simplicity and their humble eco-friendly Ganesh idol. They were there for the 5-day immersion.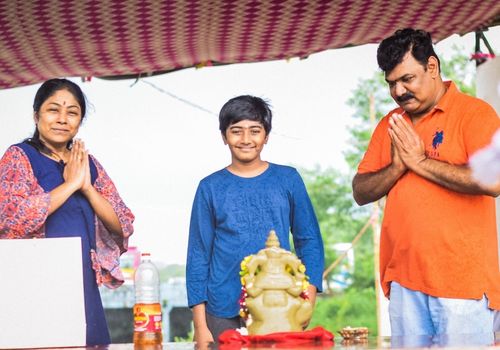 "We have been celebrating Ganeshotsav for some years now, and have always chosen eco-friendly Ganesh idols over PoP Ganesh idols. We have always felt that it is our responsibility not to harm the environment through any form of celebration. Four us, as a family, not buying PoP Ganesh idols is a simple way of playing our part in saving the environment," the Prasad's said with a sense of pride.
For those who are unaware, Ganesh Deshmukh, commissioner, Panvel Municipal Corporation (PCMC), had gone out of the way this year to promote the use of eco-friendly Ganesh idols during Ganeshotsav in Kharghar and entire Panvel region.
Deshmukh had even spearheaded an eco-friendly home and sarvajanik (public) Ganesh Mandal decoration competition 2022 under the campaigns – Majhi Vasundhara Abhiyan 3.0 and Swachh Survekshan.
The competition was well received as many families and mandals had registered as participants. An examination board had been doing the rounds of all registered homes and mandals since the first day of Ganeshotsav.
Besides the PCMC, many socially aware residents and organisations in Kharghar have also been urging families and mandals to opt for eco-friendly Ganesh idols.
As a result of which, there has been a heightened sense of responsibility among people who are taking it as a personal responsibility to keep the environment safe this Ganeshotsav.
The PCMC said that they will be relentless in their endeavour to spread awareness about the conservation of the environment and safeguarding it in every possible manner.
Last Updated on September 10, 2022 by lp@admin