The unique installation by Waatavaran mimics human lungs and demonstrates the impact of real time pollution on them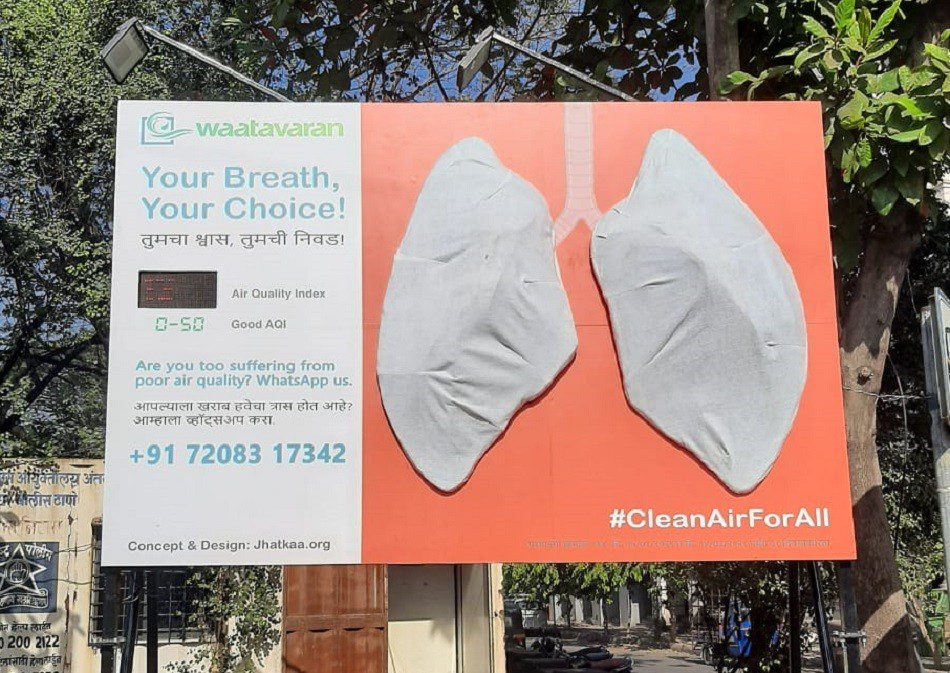 Kharghar/Navi Mumbai/PCMC: City based environmental organisation, Waatavaran (Climate, Environment and Sustainability Foundation (WCES), recently set up an installation at the Bank of India signal junction at sector 7 in Kharghar. The installation, called "Billboard That Breathes", which was installed on 15 January, 2021, was inaugurated at the hands of Panvel City Municipal Corporation's (PCMC) Mayor, Dr Kavita Choutmol, on Saturday, 16 January, 2021, a day after installation.
The huge billboard has inbuilt, large-sized "breathing lungs", that mimic the breathing process of human lungs and clearly demonstrate the impact of breathing in polluted air on a day to day basis. The billboard also has a digital air quality monitor that displays the real-time Air Quality Index (AQI).
Bhagwan Kesbhat, founder of Waatavaran, shared, "The pollution crisis in Kharghar-Taloja area is not hidden from anyone, at least not from the residents who breathe toxic air on a regular basis. We had carried out a month long independent study to monitor the quality of air in the Kharghar-Taloja-Panvel belt that had revealed some shocking numbers pertaining to the amount of particulate matter in the air in these areas."
"This 'Billboard That Breathes' installation is for a visual and real time impact on local residents as they will be made aware of the pollution crisis in the area every time they see the large sized lungs, and at the same time, be reminded to strive for the wellbeing and health of the local community on a whole," he added.
Also read: Kharghar sectors 34, 35, 36 and 37 most polluted after Taloja area
PCMC Mayor, Dr Kavita Choutmol, who inaugurated the installation, was quite vocal about her concerns over the rising pollution in Kharghar and surrounding areas.
"It is disappointing to learn about the growing pollution and it's impact on the health of local residents in Kharghar, Taloja and Panvel areas. We need to set up an expert committee and work together to tackle the situation."
Choutmol also talked about her firm stand on working out a feasible action plan and making stringent policies to penalise polluting units in the industrial belt of Taloja.
"I will be writing to the Maharashtra Pollution Control Board (MPCB) to meet at the earliest and prepare a Clean Air Action Plan for the area. I also want to stress upon the need to set up a steering committee with members that include local authorities, elected representatives as well as experts as members. It is imperative that we focus on identifying the source of pollution and take strict action against all offending entities, especially the industries in the Taloja MIDC area, which have been violating the environment norms from time to time," she said.
She also expressed her wish to see residents of Kharghar, Taloja and Panvel adopting environment friendly travel modes to cut the pollution down.
"Local residents need to turn to cycling or walking when moving around in the local vicinity and avoid using private vehicles such as cars and motor bikes to reduce the level of vehicular emissions in their individual localities. It would really help a lot in bringing down the pollution originating from vehicualar movement in local vicinities," she added.
Also read: Walk and Cycle for short distances: PCMC Mayor Dr. Kavita Choutmol urges local residents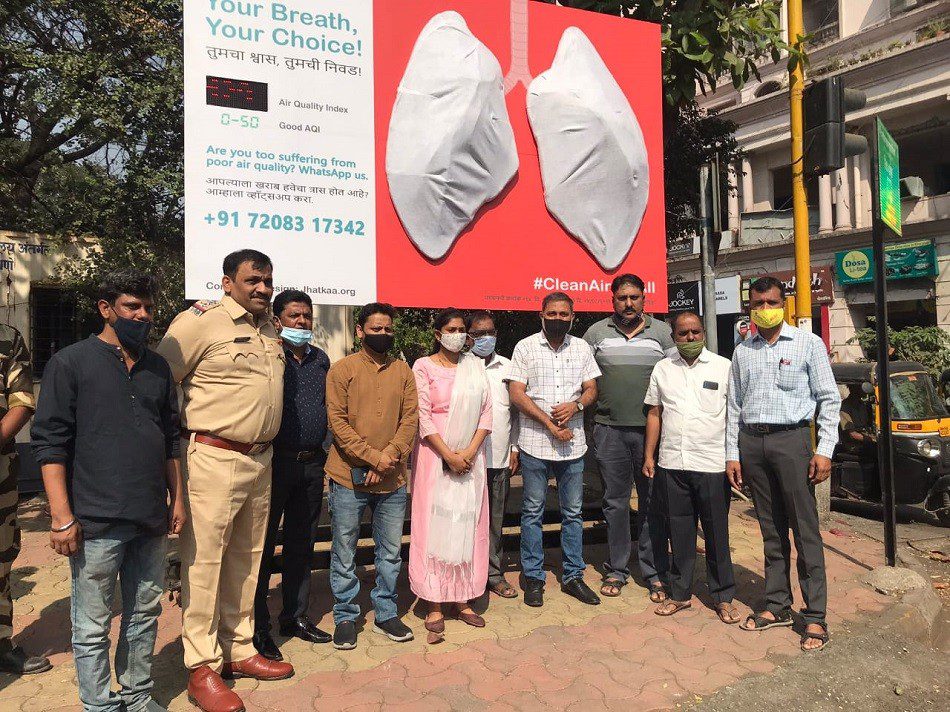 How does the "Billboard That Breathes" work?
The installation, a brainchild of Jhatka.org, consists of two large-sized lungs depicting human lungs, retrofitted with HEPA filters and a fan that sucks in air to mimic the human breathing process. A digital air quality monitor on the billboard displays real-time Air Quality Index (AQI).
The lungs are white by default and change colour as the onslaught of daily pollution continues for a stipulated period of time.
The first such installation was made in Bangalore in the month of January, 2018, and later at two locations in Delhi in the month of November, 2018.
Next, Waatavaran intends to engage local residents through social media to monitor the air quality regularly through the billboard and also draw in participation of elected representatives and political leaders to work together for the benefit of the local community.
Apart from that, they have been stressing on getting Continuous Ambient Air Quality Monitoring Stations set up in Kharghar, Taloja and Panvel area to enable the authorities to keep a tab on real time data of air pollution in the area. It would also help create a feasible and effective 'Clean Air Action Plan' for the region.
Last Updated on January 19, 2021 by lp@admin