The innovative plogging activity aims to encourage residents to willingly participate in cleanliness activities on grass root levels, during Swachh Survekshan 2022.
Vashi / Navi Mumbai: The Navi Mumbai Municipal Corporation (NMMC) has once again thought out of the box to engage local residents with all planned cleanliness activities for Swachh Survekshan 2022. The civic body hosted their first ever 'Plog Run' in Vashi recently, in a bid to draw in participation of local residents, in making the city cleaner and their lives healthier.
From the number of residents who showed up for the "Plogging" or "Plog Run" event at Vashi, it was evident that the endeavour was worth the effort.
More than two hundred people had enthusiastically participated in the plog run which was held along a 1 Km stretch between sectors 3 and 9 in Vashi. The volunteers included students and teachers of LCF Foundation and Khaki Academy (Police Recruitment Training Centre).
All present took a collective oath to ensure that the use of plastic was minimised in the city in every possible manner.
It was a sight worth watching as eager residents picked up plastic waste as they jogged along the way.
An enormous pile of 210 Kg of plastic waste was collected during the "Plog Run", which was a huge success in itself.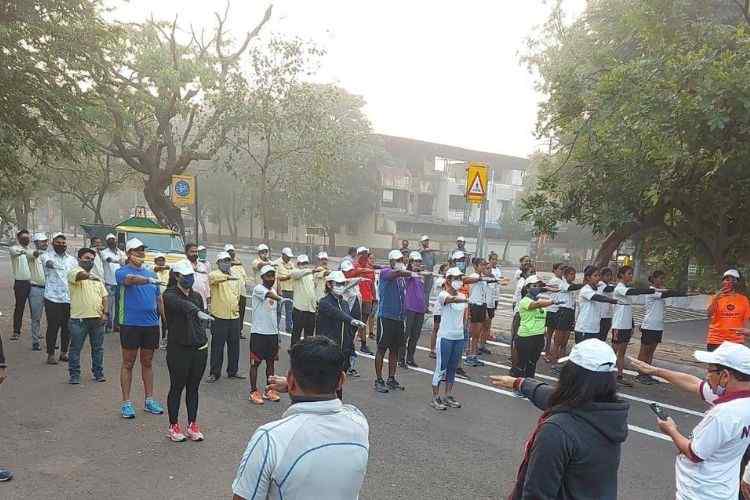 NMMC commissioner, Abhijit Bangar, shared enthusiastically, "Plog Run or Plogging, is a great way to clean the environment as well as to exercise. The regular bending and stretching for picking up waste materials activates all the body parts and at the same time, ensures cleanliness around."
The civic chief was confident of the long term benefits of the plogging activity and also informed about his plans to conduct it regularly.
"Such activities tend to promote the significance of good health and a clean environment. We will be holding a plogging activity at least once every week in different nodes of the city.
As part of the Swachh Survekshan 2022 the NMMC has also invited budding short film makers and musicians from all across Navi Mumbai to produce fresh and original content to be used for a special event on 30th December 2021.
Read the story here: NMMC's "Short Film" and "Jingle" contest
Last Updated on December 27, 2021 by lp@admin