Amid strict covid-19 restrictions, Navi Mumbai pandals and residents go for a safe and simple Ganesh Utsav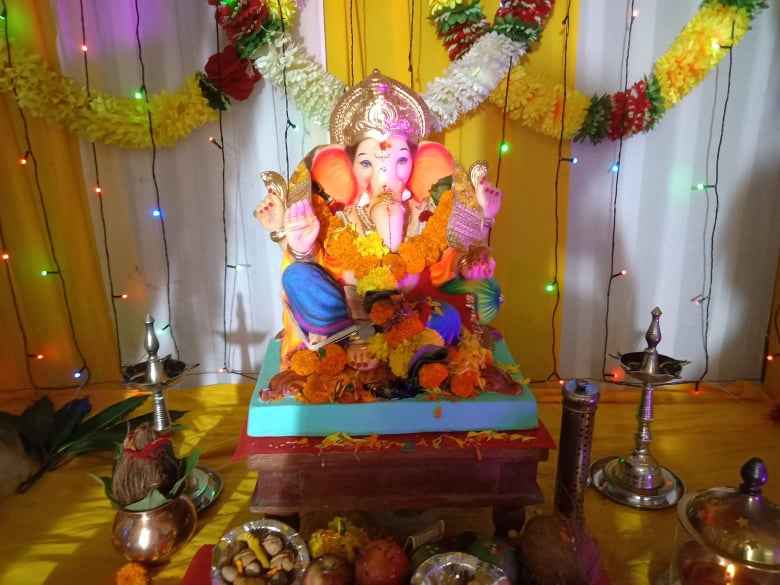 Navi Mumbai: The city welcomed Ganapati Bappa into the pandals and their homes, with all humility and not to forget, safety measures. As the threat of covid-19 still looms, with new cases cropping up again, the Maharashtra government found it wise to lay down strict measures for the Ganesh Chaturthi celebrations in Navi Mumbai, prohibiting gatherings at pandal and other places.
Talking about Ganesh Mandals in Navi Mumbai, only a handlful of the most popular ones around the city have erected pandals this year.
"The most recent covid-19 norms in Navi Mumbai have totally disallowed residents from visiting Ganesh Pandals. The only option now is to livestream the arti and darshan for all devotees," a member of a Belapur based mandal shared.
Most of the venues have been shifted from their earlier venues for maintaining safe distance from crowds.

Many mandals will however, carry on with their annual health check-up camps and other such progrmames for the local residents of Navi Mumbai.
The focus at most of the pandals this year is to make people aware of the real threat of coronavirus and take all necessary precautions moving forward.
Also, some mandals will be felicitating covid warriors like health workers, police personnel, and ideal citizens who have been of great help during the pandemic.
While residens of Navi Mumbai are not allowed to visit the pandals, some of the pandals would be letting them have darshan from outside the pandals.
Online Ganesh darshan will be the most trending news in Navi Mumbai this year.
In a similar fashion, residents took home Ganesh idols early in the mornings and even a day prior to the festival.
"We took home our Ganesh idol a day before the commencement of Ganesh Chaturthi to avoid last minute rush and the crowd. However, there wasn't much of a crowd anywhere," shared a local resident of Kharghar, who will be celebrating the festival for 5 days at home.
Housing societies that have kept Ganesh idols for the festival are trying to keep it a low key affair by not indulging in activities that draw in more crowds. With the only exception of drawing and art competitions for children and other such activities, there are not much gatherings planned for the festival.
In all, Ganesh Chaturthi celebrations in Navi Mumbai will be carried out in all simplicity this year.
Last Updated on September 11, 2021 by lp@admin