Indri, the Indian whisky sensation, clinches the coveted title of 'World's Best Whisky' at the prestigious 2023 Whiskies of the World Awards. Dive into the journey of this local gem and discover its remarkable rise to global acclaim.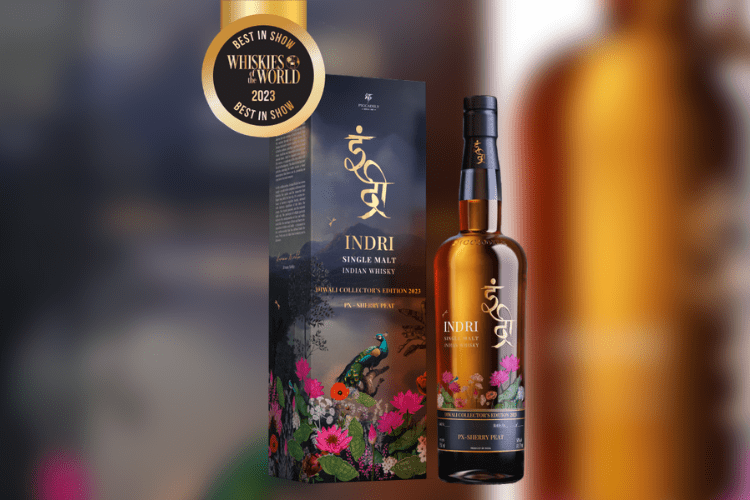 In a remarkable feat, the Indian elixir known as 'Indri' has triumphed, earning the prestigious title of 'World's Best Whisky' at the esteemed 2023 Whiskies of the World Awards. This accolade is a testament to the remarkable journey of Indian whisky, navigating through the vast and illustrious seas of global whisky competitions.
Indri, a local gem hailing from the renowned Piccadilly Distilleries nestled in Haryana, India, embarked on its illustrious voyage in 2021. It graced the world with India's inaugural triple-barrel single malt whisky, the Indri-Trini. Over the past biennium, Indri has garnered an impressive collection of accolades, boasting a remarkable tally of 14 international awards, as meticulously chronicled by The Sunday Guardian.
The Whiskies of the World Awards, an annual soiree of oenological brilliance, earnestly assesses an extensive spectrum of over 100 whisky variations, sourced from every corner of the globe. In a crescendo of excellence, the Indri Diwali Collector's Edition 2023 stood tall amongst its peers. It outshone distinguished competitors, including Scotch, bourbon, Canadian, Australian, and British single malts, ultimately seizing the coveted zenith of recognition. Outranking the competitors, Indri Diwali Collector's Edition 2023 won the 'Best in Show' Double Gold award.
For those who are not aware, the 'Whiskies of the World Awards' is a global whisky competition hosted annually by the Whiskies of the World team. Whiskies from around the world are judged on a 100-point scale, focusing on their aromatics, flavor, and finish. A panel of industry experts evaluates hundreds of entries, and one is selected as Best In Show. Whiskies of the World medals are highly regarded in both the professional and consumer spirits communities as a symbol of excellence.
(Header image: Indri.in)
Last Updated on October 2, 2023 by lp@admin