The saplings were planted in celebration of World Environment Day 2022.
Kharghar / Panvel / Navi Mumbai: A city based NGO, Ecologics & Innovations Foundation, planted 21 saplings, early during the day on Sunday, 5 June 2022, along the creek behind Vastu Vihar in sector 16 of Kharghar. The activity was self funded and carried out by their volunteers and some enthusiastic local young environment lovers, who had all gathered to do their part towards the environment, on World Environment Day 2022..
Priti Sharma, Founder, Ecologics & Innovations Foundation, shared, "Planting saplings is just one of the many ways available to rejuvenate the environment. It is a long process, but it is such long and relentless processes that can really save the environment. What we did was a small gesture just like what many other local NGOs and individuals have been doing in their own capacities. There is a lot more to be done as we go along."
Abhimanyu Patil, local corporator and chairman of ward committee (A), PCMC, took some time out of his busy schedule to participate in the activity.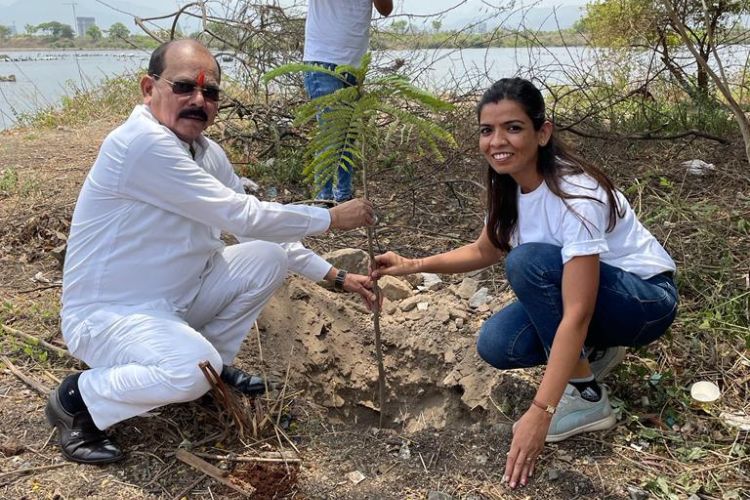 Patil shared his thoughts on the idea of planting saplings, "Of all the things we can do to nourish the environment, the simplest is the planting of saplings, whenever and wherever possible. We need to maintain a balance in environment by growing as many trees as we can. It is so simple, right?"
The youngsters present at the event shared the same opinion.
Affan Baig, a resident of sector 35, shared his experience, "This was my first ever event of planting saplings and I really felt wonderful. It provided me with a feeling of satisfaction of contributing to the environment in some way. I shall participate in such activities more often from now on."
On future events of the organisation, Priti shared, "We have a "Monsoon Plantation Drive" event coming up in the end of June, or in the first week of July (dates not decided yet), in collaboration with the Navi Mumbai Municipal Corporation (NMMC). We will be planting saplings at the Morbe Dam at Khalapur, Raigad. "
The event concluded on a good note with the creek-side area getting richer by 21 plants and the promise of more to come!
To join the cause, simply:

Call: +91 81693 35053

Visit: www.ecologicsninnovation.org
Last Updated on June 5, 2022 by lp@admin