The condoms were distributed in areas around the Kalamboli Steel Market which has a high influx of labourers and workers.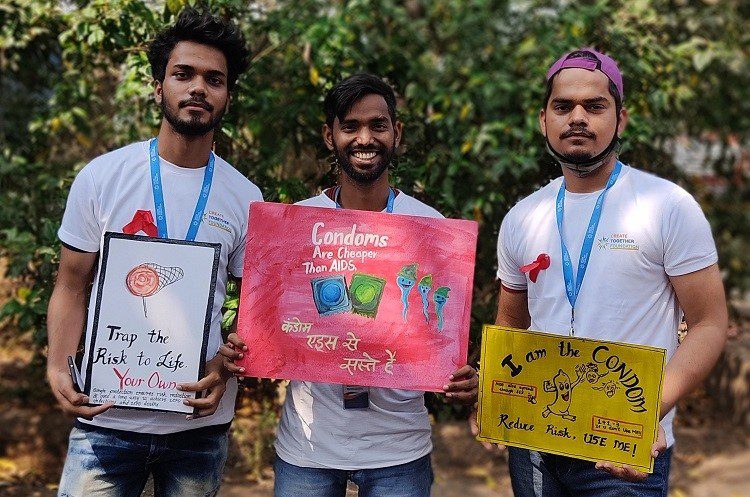 Kalamboli / Navi Mumbai: City based organisation, CreateTogether Foundation, held their annual condom distribution drive on the event of International Condom Day, on 13 February, 2021. A total of 22,730 condoms were freely distributed in the area between Kalamboli Steel Market and Station area.
This is the 5th year in a row that the CTF has been distributing free condoms in Navi Mumbai to promote safe sex.
The organisation stresses on the need to spread awareness and knowledge about the dangers of the many transmittable disease and infections, resulting from unprotected sex.
It further emphasis on the need to come out of the shell, let go of all inhibitions when it comes to buying a condom, and let go of the taboos associated with the use of condoms.
This year the organisation had selected the Kalamboli Steel Market area which has a high population of workers. The activity which had started around noon picked up pace as time passed and volunteers could be seen interacting with everyone around. They held placards with slogans that read – "Trap the Risk to Life – Your Own", "I am the Condom – Reduce Risk, Use Me" and "Condoms are Cheaper than Aids" which was the main slogan of the drive.
Here's a little chat with the young team:
So, why distribute condoms in the first place?
Well, people know about sex and indulge in sex whether you like it nor not. So why not encourage them to indulge in a safe way? There are people who are unaware or too shy to even talk or use condoms and that explains why many have to deal with unwanted pregnancies, sexually transmitted diseases and even aids.
We intend to make people aware and to be able to come out of their shy zones, to be able safeguard their own lives.
We always stress on the fact that "Condoms are Cheaper than Aids", during all our campaigns and the statement is true. A little tool of safety, that a condom is, can totally do away with a lot of ill effects of unprotected sex.
How long have you been celebrating International Condom Day?
Well, we started in the year 2017, when we had succeeded in distributing around 7200 condoms outside Belapur railway station. It was out first time doing such a thing but the response was both hilarious and encouraging. We realized that there were people willing to grab the opportunity of taking home free condoms, or rather safety tools, and hence were well aware of it's purpose and necessity. Encouraged, we have been conducting this activity since the last five years.
What all areas do you cover during the condom distribution activity?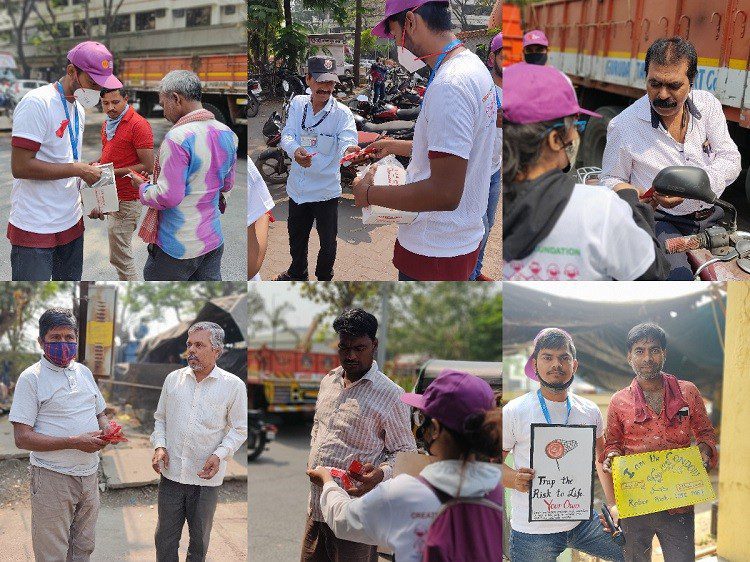 We mostly target the crowded areas with a high influx or labourers and workers, like truck terminals, market areas etc. These areas and the people therein are more vulnerable to the harms of unsafe sex owing to their lack of awareness or the willingness to understand the need for safe sex.
For instance, in the recent distribution drive we covered the Kalamboli Steel Mart area till the Kalamboli Station, and met hundreds of truck drivers, daily wage workers, restaurant owners and even local residents passing by.
In our past activities, we had also covered railway stations, like Belapur railway station for one, interacting with office goers, sweepers, restaurants etc. and the response had been encouraging.
What have been your experience distributing condoms among the masses?
Like I said earlier, it is both hilarious and encouraging. Hilarious in the sense that we have come across individuals who throw such funny and sometimes ridiculous questions, mostly misconceptions, at us, that we can't help laugh at the level of unawareness still prevalent in some parts of the society.
There had been instances when we had met people who had no idea on how the condoms worked. Then there were those who wondered what was to be done once it was used. We had even met people who had even asked to teach them how a condom was worn correctly, and we had to simply share an education videos to guide them further.
Have you ever encountered people opposing the distribution in Navi Mumbai?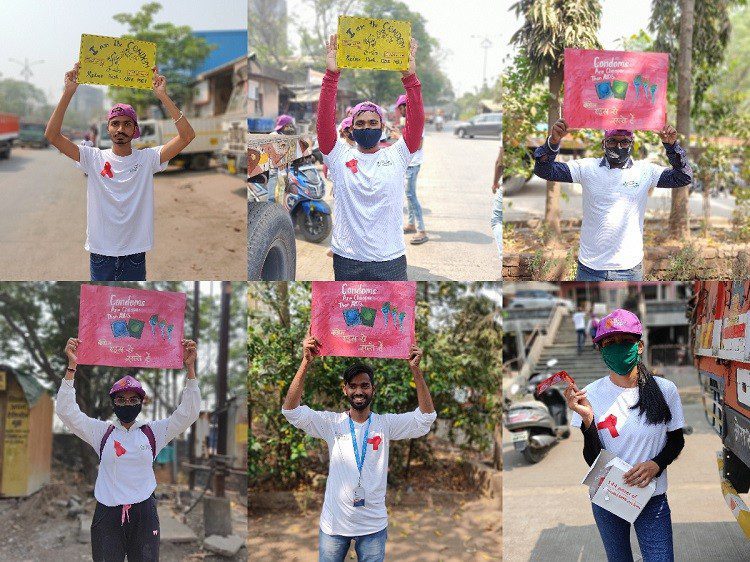 To be frank, Navi Mumbai is a more aware city. Hence, we have never come across any such people who could be considered as aggressively opposing the condom distribution activity. At most, we had been taunted by some embarrassed or angry couples who sometimes take it as an embarrassment or insult to be handed out a condom in public. Then there have been some who questioned us if we our activity could actually encourage young couples to indulge in sex, even if they had not thought about it. Apart from that there has never been any sort of opposition.
Any startling findings during your 5-year-long condom distribution drive?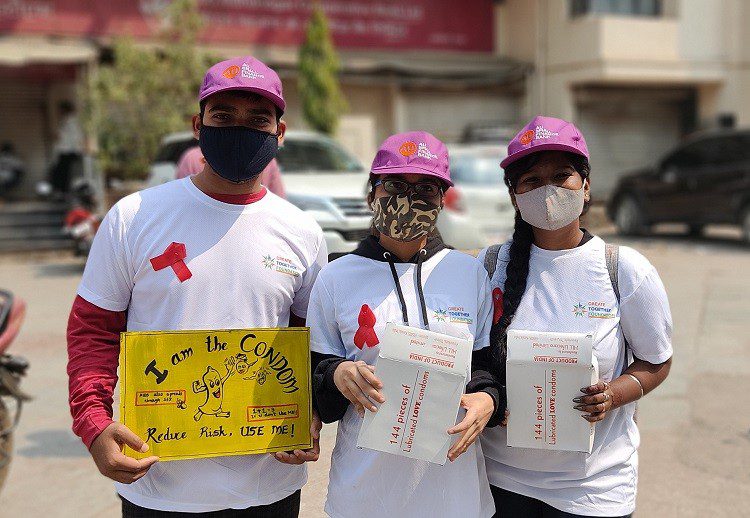 Yes, the most startling finding came in the revelation that a majority of people don't opt for condoms because they are too shy to buy them. There is an unfounded belief that a person's image will be tarnished if people were to find that he or she used condoms, because that would mean that they are sexually active.
Now, that can be a little justified in the case of unmarried individuals, who could be bad mouthed in the locality but even married ones are too shy when it comes to buying condoms, because that would be like sharing a part of their sexual lives with the others, depending on the number of packets used in a month.
As ridiculous as it sounds, it is a very worrying situation because a majority of such people end up with sexually transmitted diseases.
The sad part, is that a part of the society is yet to accept the fact that the people they know, their families, friends or relatives do indulge in sex at some point of life to a certain level and it is for their own good that they indulge in a safe manner.
People can't be stopped from having sex, but they can be encouraged to do so in a safe manner.
What are your future plans for the condom distribution, or awareness activity?
We want to reach out t more and more people through every possible channel. For now, we are targeting the less educated and aware crowd to start taking responsibility for their lives and that of their partners, by indulging in safe and protected sex.
Moving on, we would like to engage with youngsters who are getting more and more sexually active given the kind of environment around them. The youth is more rash than unaware and we intend to instill a sense of responsibility in them through targeted events in future.
With that, we concluded our tete-a-tete, happy to have such young and aware youngsters taking such a cause as a personal responsibility.
Last Updated on February 15, 2021 by lp@admin